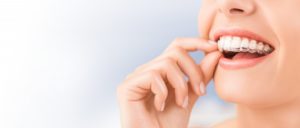 Have you been living with smile flaws for years and desire to make lasting changes? If so, Invisalign in Hackettstown provides the perfect avenue to make that happen. Before you commit to this form of treatment, though, you'd like a detailed explanation of how the process works. Your cosmetic dentist provides the answers you need by listing the 8 steps of the Invisalign process!
What is Invisalign?
The Invisalign method of correcting gapped, misaligned, crowded or crooked teeth consists of multiple clear, plastic aligners that are custom-designed by your cosmetic dentist. The aligners provide gradual and comfortable tension that encourage your teeth to move to the correct position. An added perk is that they allow you to maintain your dignity throughout the treatment process.
Step #1 – The Consultation
Before any work is done, you will meet with your cosmetic dentist so your current condition can be fully evaluated. At that time, your specialist will also discuss the cost of the procedure based on what your needs are.
Step #2 – Bite Impressions
At your next appointment, your cosmetic dentist will capture bite impressions of your teeth that will be sent to an official Invisalign laboratory, and the technicians there will start the fabrication process based on the treatment plan your specialist has developed.
Step #3 – The Virtual Treatment Plan
The laboratory will then send back a virtual treatment plan for your cosmetic dentist to review to make sure you'll receive the desired results.
Step #4 – Retrieval of Your Aligners
Once your cosmetic dentist notifies the laboratory that the virtual plan is satisfactory, the fabrication process will move forward. When your aligners are ready, you'll return to retrieve them, and you'll be instructed to wear them for 20-22 hours a day to ensure you receive the maximum benefits.
Step #5 – Check-ups
With the Invisalign process, you'll visit your cosmetic dentist every six to eight weeks so your progress can be monitored. If any minor adjustments are needed, your cosmetic dentist will implement them so you can stay on track with the pre-designed program.
Step #6 – Refinements
At the end of the treatment process, your smile will be evaluated again. If needed, your dentist will make some refinements, which may include capturing a new set of bite impressions to fabricate more aligners.
Step #7 – Retainers
After your teeth have been adjusted, they can still shift. Retainers help to maintain their position while new bone grows around the roots to ensure you maintain your results.
Your cosmetic dentist will monitor your bite movement to determine how long and frequently you need to wear your retainers.
Step #8 – Follow-Up Care
An integral part of your treatment process is the follow-up care you'll receive, which will usually last for the next 24 months after the adjustment process is completed.
With the Invisalign process, you won't have to endure the metal brackets and wires that are common with traditional braces. Instead, you'll be able to enjoy a seamless process that will produce a beautiful new smile! Reach out today to schedule a consultation with your cosmetic dentist in Hackettstown.
About the Author
Dr. Arindam Kakkar earned his dental degree from NYU, College of Dentistry, and he has since gone on to provide comprehensive care for over a decade. Dr. Kakkar corrects bite problems with Invisalign at Skylands Dental of New Jersey, and he can be reached for more information through his website.