Gum Disease Treatment – Hackettstown, NJ
Comfortable, Effective Relief for Bleeding Gums
An estimated 50% of Americans currently have some form of gum disease, making it even more common than tooth decay. Without treatment, gum disease can put you at risk of tooth loss and even a host of overall medical conditions, including cardiovascular disease, type 2 diabetes, and Alzheimer's disease. At Skylands Dental of New Jersey, Dr. Ari Kakkar screens for gum disease during each dental checkup, and he offers comfortable, effective treatment if the infection is present. Contact us today to learn more about gum disease treatment in Hackettstown, NJ.
Why Choose Skylands Dental of New Jersey for Gum Disease Treatment?
We Accept & Maximize Dental Insurance
Experienced Dentist with a Gentle Touch
Clean, Comfortable Dental Office
Scaling & Root Planing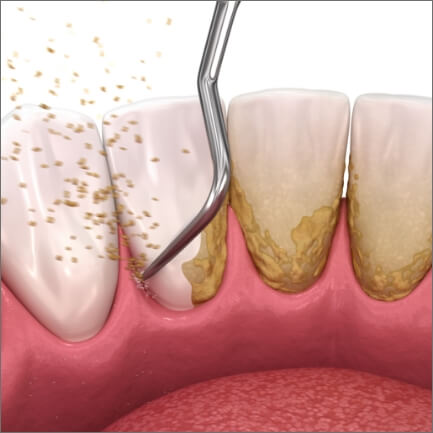 Collectively referred to as a dental deep cleaning, scaling and root planing work to address gum disease at the source. Dr. Kakkar will conduct an exam and numbs your mouth, then the our trained and experienced hygienist uses an ultrasonic scaler to clear away the deposits of plaque and tartar, under the doctor's supervision. Then, the hygienist gently smooths out the roots of the teeth, rendering it more difficult for bacteria to accumulate there. Depending on the severity of the infection, scaling and root planing may take between one and four visits.