Invisalign – Hackettstown, NJ
The Convenient Way to Get a Straight, Beautiful Smile
Congratulations! After years of thinking about your smile, you've decided to take action and have your teeth straightened. We think that's great. To help you realize the smile of your dreams, the cosmetic dentist at Skylands Dental of New Jersey of New Jersey are proud to offer Invisalign® for Hackettstown, NJ dental patients. This orthodontic system is quite a bit different from traditional braces. With Invisalign, only you and your Hackettstown dentist may ever know that you're wearing braces.
Why Choose Skylands Dental of New Jersey for Invisalign?
Digital Impressions Without the Goopy Mess
See Your Future Smile with Digital Imaging Technology
Dental Insurance Accepted & Flexible Financing Available
The Invisalign Difference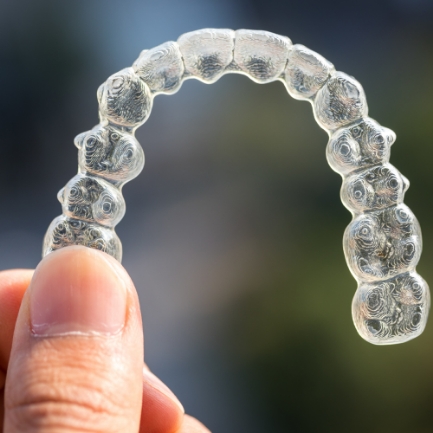 What makes Invisalign different? Unlike standard orthodontics, which uses metal brackets and wires to move teeth into proper alignment, Invisalign uses clear braces. But they're not the kind of braces most people think of when they picture typical braces. Invisalign braces are actually clear BPA-free plastic mouth trays that fit snugly over your teeth. As you progress through your customized sets of trays, your teeth gradually align.
The Advantages of Invisalign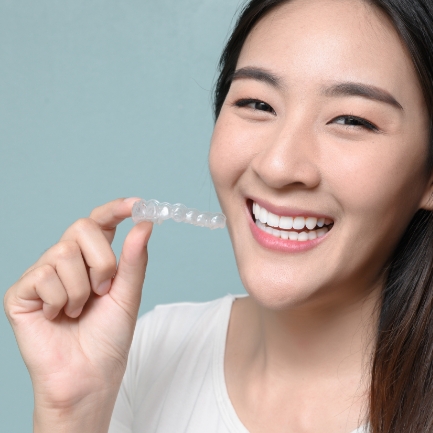 If wearing braces that are hardly noticeable isn't advantageous enough, then consider these other benefits. Invisalign braces are removable. This means that you'll be able to eat all the foods you normally enjoy for breakfast, lunch, and dinner. With metal brackets and wires, you'd need to be careful about what you eat, because some foods—chewy candy, carrot sticks, popcorn, hard pretzels, and the like—can dislodge a bracket that was bonded to a tooth. Then you have to make a trip to the dentist or orthodontist to have the bracket replaced—an inconvenience and sometimes an added expense. That won't happen with Invisalign.
And because your clear braces are removable, you can also maintain your regular oral hygiene routine at home. Brushing and flossing are always important, but perhaps even more so when you're wearing braces. Removing debris and plaque is critical in order to avoid tooth decay or gum disease while you're undergoing orthodontic treatment.
Receiving Your Invisalign Braces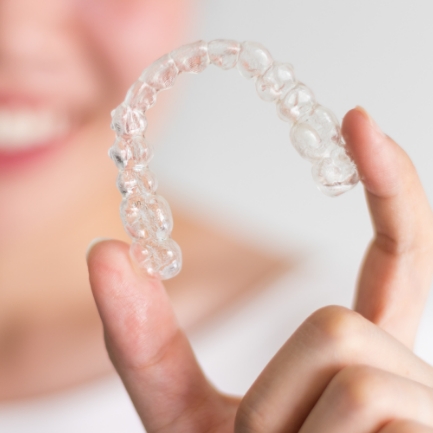 We work closely with technicians at Invisalign to customize your clear braces. After taking a collection of X-rays, photos, and impressions, your Invisalign dentist will develop a treatment plan that becomes the roadmap we follow to reach your straight smile. Using this plan as well as a 3D representation of your teeth, the Invisalign lab creates your aligners. The complete series arrives in our dental office, and we dispense them to you at your periodic progress checks. All you have to do is wear each set for two weeks, throw them away and move on to the next set. You'll only need to see us occasionally, and there will never be the need to adjust or tighten your braces.
And while the length of your treatment time will depend on the unique needs of your occlusion, most people have a straight and beautiful smile in less than two years.