Dentures – Hackettstown, NJ
Bring Back the Missing Parts of Your Smile
Whether your natural teeth were lost to gum disease, accident, injury, or some other reason, tooth loss comes with all sorts of challenges for daily activities, such as talking and eating. The right denture can bring back the missing parts of your smile, letting you live your life with confidence again. With modern technology here at Skylands Dental of New Jersey, Dr. Ari Kakkar can create dentures for Hackettstown, NJ dentistry patients that feel comfortable and look natural. Get in touch with us to set up your consultation!
Why Choose Skylands Dental of New Jersey for Dentures?
Comfortable, Mess-Free Digital Impression Technology
State-of-the-Art Implant Dentures Placed In-House
In-Network with Many Leading Dental Insurances
Full Dentures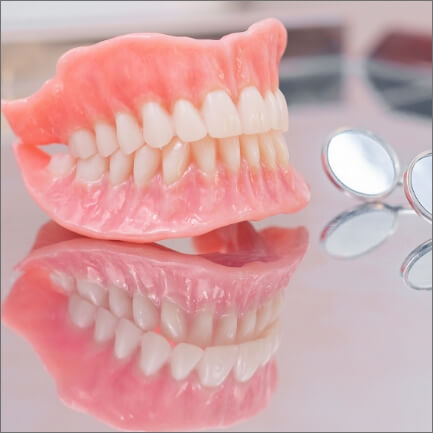 When most people hear the word "dentures," they think of full dentures. These prosthetics contain a whole row of replacement teeth attached to a pink acrylic base that rests on the gums. Natural suction should keep it firmly in place, but a bit of adhesive can provide additional stability. You can remove full dentures at any time, making it easy to ensure you're thoroughly cleaning them.
Partial Dentures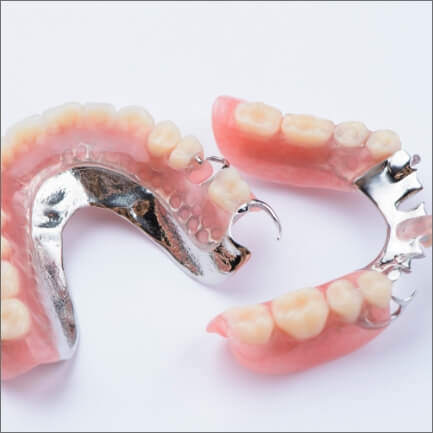 A partial denture can be great for patients who are missing several teeth but still have plenty of healthy ones left. With a partial denture, the prosthetic teeth are not consecutive, but rather located at various points along the arch to fit between your remaining teeth like the last piece of a puzzle. Partials are ordinarily secured onto the natural teeth with metal clasps. Unlike a dental bridge, a partial can be removed at any point.
Immediate Dentures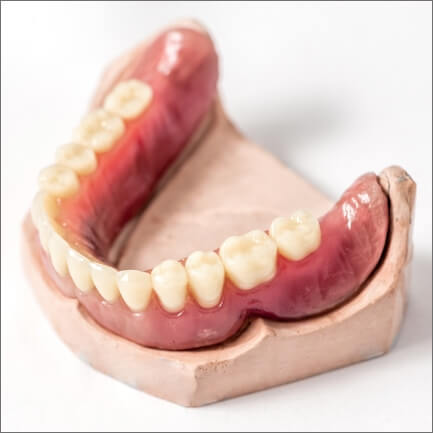 As the name suggests, immediate dentures can be placed during the same appointment where the teeth are extracted. The gums and underlying bone will alter the way the denture fits over time, resulting in the need for additional adjustments. After about six months following the tooth extractions, an immediate denture must be relined (the base replaced), or a completely new denture will need to be created. Although this will result in higher total treatment costs compared with regular dentures, immediate dentures allow you to not go one more day with an incomplete smile. Plus, they can help reduce post-op bleeding right after they're placed.
Of course, not every patient is a good candidate for immediate dentures; certain oral or general health conditions may make the procedure inadvisable. Dr. Kakkar will be sure to discuss your possibilities with you during your visit.
Implant Dentures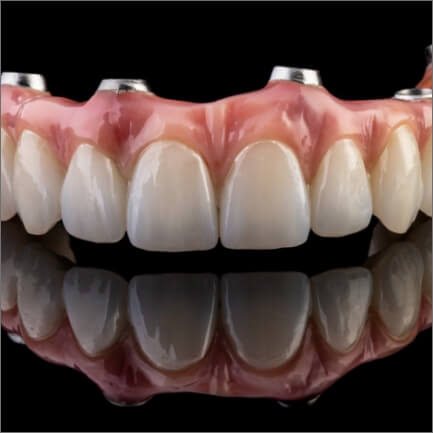 Today's dentures look and feel lifelike, but they'll eventually lose their fit and end up slipping, which can be embarrassing and uncomfortable. As an alternative, Dr. Kakkar might suggest anchoring your denture onto dental implants – artificial tooth roots. Typically, somewhere between four and eight implants are positioned in your jawbone, and support fixtures are attached on top to secure your denture. With implant dentures, you'll enjoy a stable fit without worrying about messy adhesive creams or annoying slippage.
Better yet, Dr. Ari Kakkar is a trained implant dentist. In most cases, he can handle every phase of the dental implant process in our familiar dental office, saving you from being referred to a separate specialist.
Implant Dentures with Mini Dental Implants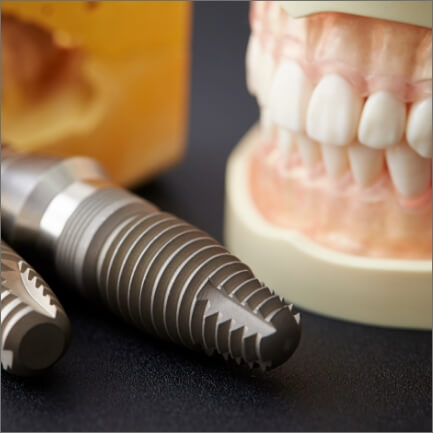 Patients with certain medical conditions or without adequate jawbone density may not be eligible for dental implants. Thanks to mini dental implants, though, these patients can often still benefit from implant dentures. Mini dental implants are, as you may have guessed, shorter than regular implants, allowing us to place them even in patients who have experienced jawbone loss. Dr. Kakkar will thoroughly examine your jaw and mouth as well as review your medical history to conclude whether implant dentures with mini dental implants are right for you.
Understanding the Cost of Dentures
Dentures aren't as expensive as you might think. You can replace your missing teeth, even if you're on a budget. Many factors affect the cost of dentures, but Dr. Kakkar strives to keep a complete smile affordable for everyone. You can invest in a new set of teeth without it costing you an arm or a leg.
Factors That Affect the Cost of Dentures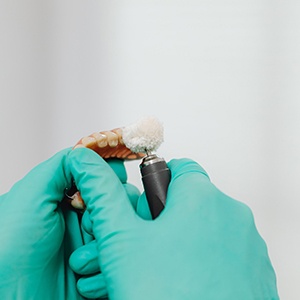 There's no one-size-fits-all denture because every mouth is as unique as fingerprints. Your denture is customized to fit your mouth like a glove for stability and comfort. Therefore, the amount you pay is determined by your specific treatment plan. You can expect your estimate to include:
Preliminary Treatments: It's not uncommon to need a little prep work, like tooth extractions or gum disease therapy.
Type of Denture: You have many options to choose from, including partials, full dentures, and dental implants.
Number of Arches: Treating both arches will affect the cost.
Materials: High-quality materials can be more aesthetically-pleasing, comfortable, and durable. Dr. Kakkar will help you choose quality materials.
After examining your mouth and learning more about your preferences, Dr. Kakkar will create your treatment plan and explain what to expect on the road ahead.
Are Implant Dentures More Expensive?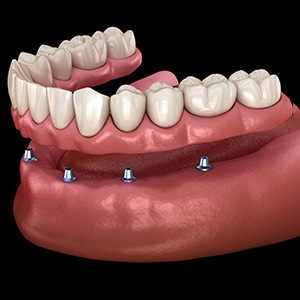 Dental implants can cost more initially, but they are the most affordable long-term. They don't need to be replaced every few years like traditional dentures, so you'll save money down the road.
Not to mention, you'll enjoy unmatched benefits, like a 95% success rate, jawbone preservation, and a boost in your confidence. Dental implants closely look and feel like real teeth, so you'll never be embarrassed by your smile again.
Does Dental Insurance Cover Dentures?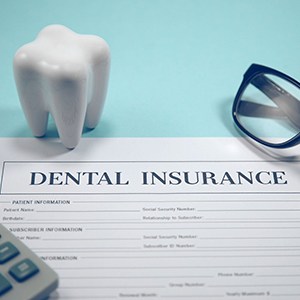 You can offset the cost of replacing missing teeth using your dental insurance. Every situation and dental plan differs, but your coverage can include your consultation and any preliminary treatments. Your insurance can also pay 50% of the cost of your prosthetic after meeting your annual deductible. A member of our office will work on your behalf with your dental insurance to maximize your coverage to lower your out-of-pocket costs. They'll explain how your coverage is being used and if you owe a remaining balance.
Other Options for Making Dentures Affordable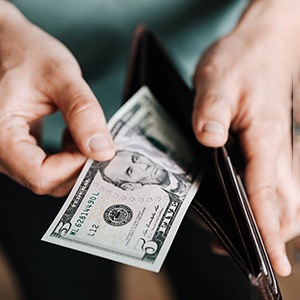 We will provide you with a personalized estimate and explain the fees. A member of our team will discuss your payment options, including:
Traditional Payments: We accept all traditional payments, including cash, checks, and credit cards.
Monthly Payments: Pay any out-of-pocket expenses using monthly installments through a third-party financing company, like CareCredit. Based on your credit approval, you can qualify for little or no interest in financing.
Promotions: We offer many specials, like a complimentary dental implant consultation.
In-House Savings Plan: Patients with no insurance can join our in-house savings plan. Among the many benefits is a 20% discount on all treatments.
If you have questions about your payment options, contact our office today.
Dentures FAQs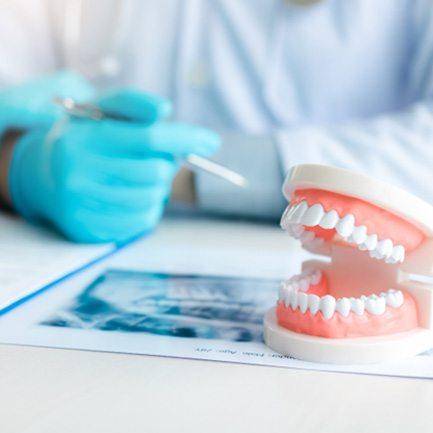 Ultimately, getting dentures in Hackettstown is a good idea. These prosthetic teeth will restore your smile quickly and effectively! That said, you should learn more about them first. Doing so ensures you know what to expect from treatment. Luckily, the Skylands Dental of New Jersey team can help: we've listed the answers to oft-asked denture questions below. By reading them, you'll understand how our restorations work. If you need other facts, though, don't worry; call our office for the details.
Will It Hurt to Get Dentures?
In truth, receiving dentures involves little (if any) pain. Dentists work to make treatment as smooth and comfortable as possible.
Granted, you may feel some minor aches when you first get dentures. Your mouth will need time to adjust to the new appliance. This adjustment period, furthermore, varies from person to person. Even so, this soreness is temporary and will fade soon enough. It's also easily managed with over-the-counter pain relievers.
Call your local dentist at once if your denture pain persists or worsens. The restorations may not be fitted correctly, or you may have an underlying health issue.
What is the Average Age for Dentures?
Of course, tooth loss isn't inevitable; nor does it only affect one age group. However, it's a fact that seniors are the ones most likely to wear dentures. The need for prosthetic teeth generally increases with age.
This conclusion is backed by current research. According to the National Center for Health Statistics, 66% of those aged 40-64 are missing at least one tooth. Meanwhile, only 33% of adults aged 20-39 are missing any chompers. A census done by the American Dental Association, furthermore, found that 57% of people 65-74 wear dentures.
What Can't You Eat with Dentures?
Like natural teeth, dentures can handle a wide variety of foods. Still, there are items they can't manage very well. You'd do well to limit your intake of such things.
For example, consider sticky foods. These products - peanut butter, gummy candies, etc. – can pull dentures out of place. This feature not only makes them hard to chew, but also lets food particles get stuck beneath the dentures.
Small, hard foods are also a risk for dentures. Tough bits from popcorn kernels, shelled nuts, or sesame seeds could get lodged around them. Worse yet, biting these products could damage or dislodge the dentures.
Can I Use Regular Toothpaste to Clean My Dentures?
Naturally, you should brush and rinse your dentures daily. (How else will you keep them clean?) That being said, don't use regular toothpaste for these tasks.
You see, standard toothpaste is pretty abrasive. It can easily leave microscopic scratches on the dentures' surface. Left unchecked, those marks could greatly damage your prosthetic teeth. You don't want that, right?
Instead of toothpaste, use hand soap or dishwashing liquid for denture cleanings. Specialized cleansing solutions are also an option. Any of these non-toothpaste choices, really, will keep your dentures bacteria-free.