Dental Implants – Hackettstown, NJ
Regain the Confidence to Eat, Speak, & Smile
Tooth loss not only tarnishes your beautiful smile, but it can also lead to jawbone deterioration and shifting of your remaining teeth, not to mention many other health problems. Dr. Ari Kakkar is a trained dental implant specialist. He can perform both the surgical placement and the restoration of your dental implants here at Skylands Dental of New Jersey. By replacing one or more teeth with dental implants at our Hackettstown, NJ dental office, you'll regain the confidence to eat, speak, and smile. Call us today to set up your initial dental implant consultation!
Why Choose Skylands Dental of New Jersey for Dental Implants?
Start-to-Finish Dental Implant Treatment Under One Roof
CT/Cone Beam Scanning Technology
Flexible Dental Financing Options
What Are Dental Implants?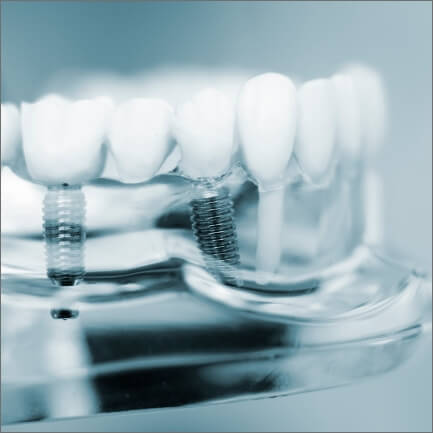 Dental implants are small titanium rods designed to replicate the roots of your missing teeth – the part hidden beneath the gums. After the implants have been placed in the jaw during a minor surgical procedure, they begin to bond with the surrounding bone and tissue, creating a firm foundation for the prosthetic teeth that are secured on top. Currently, dental implants are the only option that recreates the whole structure of missing teeth, which makes them the closest thing to having your old teeth back.
The 4-Step Dental Implant Process
As a highly qualified implant dentist, Dr. Kakkar can usually perform every phase of dental implant treatment right here in our dental office. These steps include:
01
An initial consultation with 3D scan using Galileo, where we ensure that you're eligible for dental implants.
02
Surgically placing the implants into your jaw.
03
Expose the the implant after 3 months and then a month later take impressions for abutment crown, which is delivered typically within 2 weeks.
04
Restoring the implants with custom crowns, bridges, or dentures.
Benefits of Dental Implants
When it comes to tooth replacement, dental implants are in a class all their own. Their unique property of recreating the entire structure of teeth gives them multiple unique benefits, including:
Stimulation of the jawbone, which prevents your face from prematurely aging.
Helping you eat your favorite foods.
Always staying in place.
Being able to last for 30+ years with the right care.
Looking and feeling indistinguishable from natural teeth.
Who Dental Implants Can Help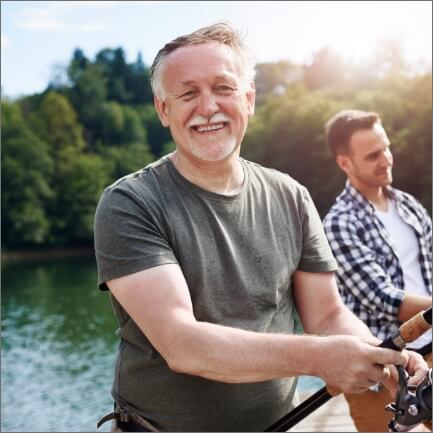 Dental implants can help practically any healthy adult replace any number of missing teeth. As long as you have enough healthy jawbone mass (or can get a bone grafting procedure in order to reach that point), there's a good chance that you're a candidate for dental implants. After meeting with Dr. Kakkar, he can let you know which of the following treatment options would be best for you.
Missing One Tooth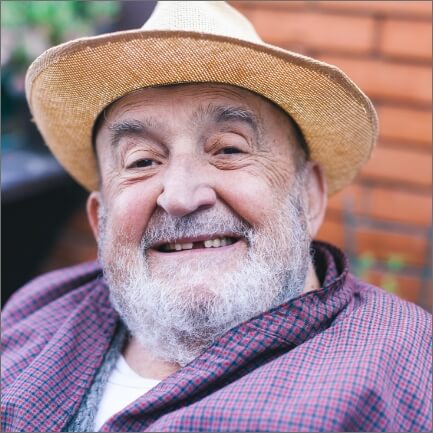 A single implant can be vertically placed between two natural teeth and fitted with a dental crown on top. Not only does an implant crown support itself without relying on surrounding teeth, but the crown also blends in with your smile as a whole.
Missing Multiple Teeth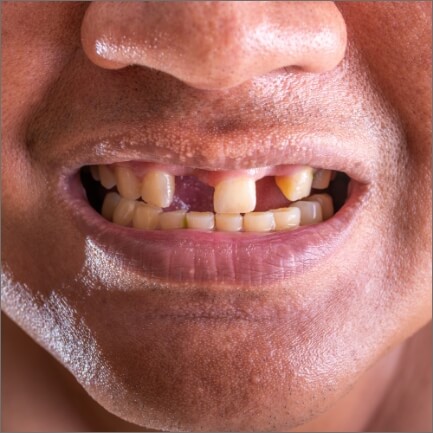 Rather than placing one implant for every missing tooth, we can position a small number of posts at strategic points throughout the mouth to hold a dental bridge or partial denture in place. Compared to their traditional counterparts, these solutions are much sturdier and more reliable.
Missing All Teeth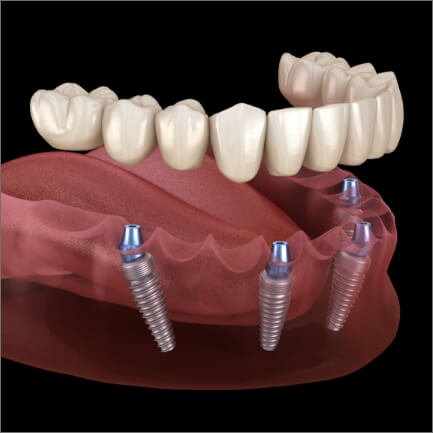 Tired of your current denture? It rarely takes more than eight implants to bring back an entire row of teeth with an implant denture, which makes eating easier and never slips out of place. We even offer All-on-4 dental implants, which require only four posts per arch.
Understanding the Cost of Dental Implants
When you replace your teeth with dental implants, you're making an investment that will improve your day-to-day life and keep your mouth healthy for decades to come. Naturally, this higher value is reflected in the cost. No two patients pay the same amount for treatment as complex as dental implants, and our team will happily go over the factors affecting the price with you. We'll also help you come up with ways to fit the cost of dental implants into your budget.
Dental Implant Frequently Asked Questions
Dental implants are an excellent way to replace missing teeth, but they are an investment. It is important that you are well-informed before committing to the procedure. Here are the answers to some of the most common questions we are asked about dental implants in Hackettstown. If you don't see your question listed below, don't worry! Just give us a call and we'd be happy to provide you with the information that you're looking for and get you started with an initial consultation.
How Long Do Dental Implants Last?
The lifespan of dental implants depends on the health and lifestyle choices of the patient. To ensure that dental implants last, it is important to brush, floss, and rinse with a mouthwash on a daily basis. You should be attending regular cleanings and checkups and be sure to avoid foods that are particularly hard or sticky. With proper maintenance, dental implants can last upwards of 30 years. This is several times longer than the average traditional bridges and dentures.
Does Getting Dental Implants Hurt?
The jawbone doesn't have very many nerve endings, and your mouth will be numbed with a local anesthetic before the start of the procedure. You will also most likely be sedated, so you shouldn't feel any pain while the surgery takes place. However, you may feel some soreness for a few days afterward. This can be managed with recommended over-the-counter and prescribed pain relievers as well as cold compresses. If your discomfort worsens instead of improving after two to three days, give us a call!
Will I Have to Take Off from Work for Dental Implant Surgery?
Most patients need to take one or two days off work to get dental implants, but if you have a job that is physically demanding, you should probably take at least three to four days off. This is because heavy exercise can divert blood from the implant site and slow down healing. Before your procedure, Dr. Kakkar will be able to give you a more specific recommendation for your unique case.
Can I Get Dental Implants If I Have Rheumatoid Arthritis?
Depending on your bone density and the health of your gums, you may still be able to get dental implants even if you have rheumatoid arthritis. Because treating rheumatoid arthritis often involves taking immunosuppressant drugs which can affect bone healing and increase your risk of infection, you may need to talk to your doctor about other options in the weeks before and after your surgery. Dr. Kakkar will evaluate your oral and overall health to determine whether or not they are right for you.