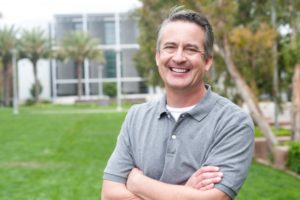 Have you recently had a dental crown placed? Receiving a crown from your dentist not only makes your teeth look better, but it protects them from more serious dental issues. Although crowns are built to last, you can damage your crown which will lead to more serious and complicated dental issues. Keep reading to learn how to take the best care of your dental crown in Hackettstown so you can benefit from it for years to come.
What is a Dental Crown?
A dental crown is a cap that completely covers your tooth down to the gumline. Dental crowns are a great option for patients needing to protect damaged teeth and to make your smile look better and healthier. Crowns are also durable—they will last you between 10 and 15 years. Even though they are durable, your crown can suffer damage that will cause tooth decay and infection.
What Can Damage My Crown?
Yes, crowns are incredibly strong, but they can still be damaged by poor oral hygiene and bad habits. Check out some of the more common causes of damaged crowns below:
Decay: Even though the crown covers your whole tooth, you still have to be on the lookout for plaque that can seep into the crown's interior and decay your tooth.
Biting and Chewing hard food/objects: Biting your nails or ice can cause chips and cracks in your crown.
Mouth injury: If you play a sport or like physical activity, you could damage your crown through injury. A mouth injury can break your crown, so do your best to protect it by wearing a mouthguard.
Bruxism: Grinding and clenching your teeth can damage your crown. Typically, people with bruxism don't know they have it because they grind and clench their teeth during sleep.
How Can I Care for My Crown?
Now that you know what to watch out for, see how you can protect your crown with these daily habits:
Brush your teeth twice a day to keep harmful plaque and bacteria at bay.
Floss once a day to remove plaque and tartar deposits from in between your teeth.
Avoid hard foods like popcorn kernels, ice, and jawbreakers.
Avoid chewing hard objects like biting your nails or a pencil.
Don't grind or clench your teeth. If you can't stop grinding during your sleep, talk to your dentist about your treatment options like a nightguard.
If you have a damaged crown, contact your dentist immediately to get the treatment you need. Even if you don't feel any pain, a crack in your crown can lead to tooth infection.
Whether you just got a crown placed or you're thinking about getting a restoration, use our tips on how to take care of them so you can get the most out of your crowns.
Meet the Dentist
Dr. Arindam Kakkar offers a wide variety of services to help with any dental issues you may be having. He even offers same day crown placement, so if you need a crown but don't like making multiple visits, he can take care of your restoration in one trip. He currently practices at Skylands Dental of New Jersey where he can be contacted through his website or by phone at (908) 850-0005 for any questions.