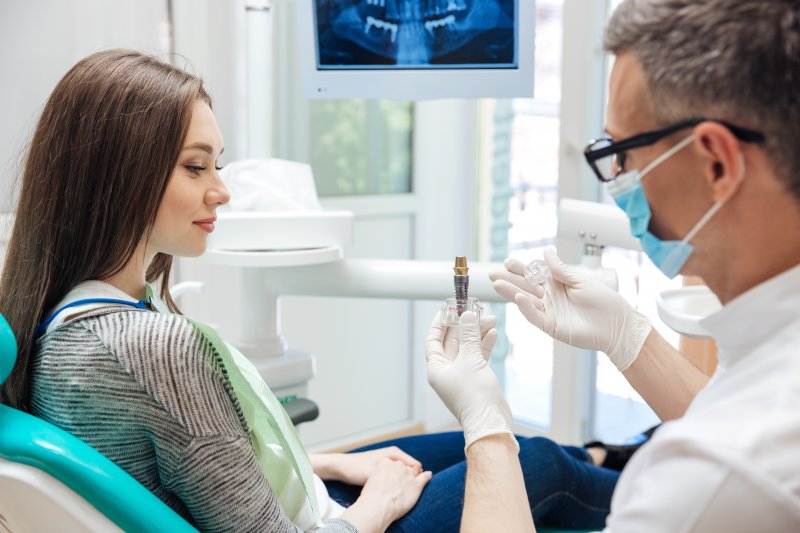 Are you interested in dental implant treatment but concerned about metal allergies? You're not alone. Many individuals face this dilemma when they learn that dental implants require a titanium rod to be inserted into the jawbone.
According to the Brazos Valley Allergy and Asthma Clinic, it's estimated that 15% or more of the US population are allergic to some form of metal, so you may have had an unpleasant experience with jewelry, a belt buckle, eyeglasses, or some other object in the past that has made you nervous about metal going into your body.
With dental implants, however, you generally won't have to worry about this. Read on to discover why titanium isn't just any metal and why dental implants may still be viable.
What Is a Metal Allergy?
To understand what makes titanium especially suited to dental implant treatment, first consider metal allergies in general and how they affect the body.
Metal allergies are common, but most people are allergic to one specific type of metal: nickel. Nickel accounts for nearly 90% of all metal allergies in the United States; the rest are rare metals like cobalt, gold, or palladium.
Just like with other allergic reactions, your body recognizes exposure to the metal as a foreign substance and immediately activates an immune response causing redness, rash, and swelling.
Why is Titanium Special?
Titanium is the metal chosen by dentists to perform dental implant treatment because of a unique property known as biocompatibility. This means that typical dental implants, which are made from this metal, allow it to fuse to the bone and encourage bone growth.
Titanium and its alloys are similar to the material used in knee and hip replacements, so they have been tested numerous times in other fields of medicine and have an extremely low rejection rate. Over time, your body will accept the implant as a part of your natural bone.
What if I'm Allergic to Titanium?
A very small percentage of the population are actually allergic to titanium, but if you're one of those people, it may prevent you from receiving traditional dental implants. Implants that are rejected by the body can cause pain, swelling, gum conditions, and, in severe cases, bone loss.
It's possible your dentist may have a metal-free solution in zirconium implants, but not all dentists offer the material as it is relatively new and not as desired.
Having a metal allergy doesn't necessarily mean you can't benefit from dental implants, but you should be careful and have yourself tested by a medical professional if you suspect you may have a sensitivity to titanium.
Modern dentistry offers various alternatives and solutions to accommodate your specific needs and concerns, but communication with your dentist is a must.
About the Author
Dr. Arindam Kakkar considers it an honor, a privilege, and a responsibility to serve his patients at Skylands Dental of New Jersey, LLC. Dr. Kakkar graduated from dental college at the NYU, College of Dentistry as an exclusive member of the Omicron Kappa Upsilon dental honors society. Afterwards, he continued his education to expand the services he could offer to his patients including dental implants. To schedule an appointment, visit the website here or call (908) 850-0005 for more information.