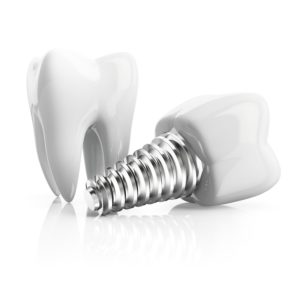 Dental implants in Hackettstown have become one of the most popular solutions to replace missing teeth due to their high success rate. With more than 95% of the procedures successful, over 500,000 are now placed each year. While the treatment is routinely performed, not all surgeries are the same. Due to certain underlying factors, some cases are more complex than others. As a result, additional procedures may be needed.

Complications from Decreased Bone Density
The long-term success of dental implants relies on the jawbone's ability to properly fuse to the titanium implant posts. For this to occur, there must be adequate bone density to support the posts. However, when tooth loss is left untreated for a prolonged period of time, it is not uncommon for the bone to begin to deteriorate. When this occurs, their placement and the long-term success becomes more complex. Instead of just undergoing the placement surgery, an additional treatment may be required, known as bone augmentation.
Bone Augmentation Procedure
Bone augmentation, also known as bone grafting, is a minimally invasive and painless procedure that may be needed prior to placing the implant posts. Your dentist in Hackettstown, will use a local anesthetic to numb the area to reduce any discomfort you may experience.
A small incision is made into the gum tissue to expose the bone. Bone grafting material, which contains collagen and proteins to encourage new growth, will be placed on the area and the gum tissue will be sutured closed. Over the next few weeks, new bone will begin to grow, replacing the graft material.
Additional Complications
While decreased bone density is among one of the most common factors to influence the complexity of the procedure, several other issues can impact it as well. Prior to having the posts placed, you may need:
Sinus Lift: If there is not enough bone in the upper jaw, a sinus lift may be needed to increase the height of the bone to better support the posts.
Ridge Expansion: When the upper jaw is too narrow to support the post, a ridge expansion will divide the bone and use a graft to widen the area.
Distraction Osteogenesis: If the bone is shorter than average, its length can be increased by cutting it and using a distractor to pull the pieces apart. New bone will grow in between to make it longer.
Where is a Dentist Near Me for Dental Implants?
If you have unique factors that make your dental implant procedure a little more complex, you need an implantologist to safely and effectively create a customized treatment plan.
About Dr. Zahir A. Khokhar
Dr. Zahir A. Khokhar specializes in periodontics and prosthodontics to offer an array of advanced treatments, such as dental implants. Due to his extensive training and qualifications, he can perform even the most complex procedures. If you have any questions about your candidacy for dental implants, contact Skylands Family Dental Care to schedule a consultation.