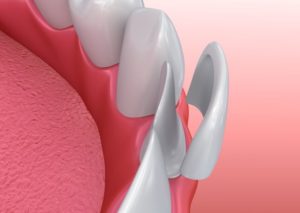 You have probably heard about how porcelain veneers can transform a smile from mediocre to marvelous. But are they the solution you need? Only a cosmetic dentist in Hackettstown can say for sure. In the meantime, knowing a little bit about this form of treatment can help you to be a better informed, more empowered patient. With that in mind, let's look at how porcelain veneers may be able to help you achieve your aesthetic goals.
You May Stand to Benefit from Porcelain Veneers If…
Veneers might be the answer you're after if most or all the following characteristics apply to you:
Your teeth are in overall good health. Porcelain veneers are a cosmetic, not restorative form of treatment. They're useful for correcting flaws such as small chips or unevenness as well as discolorations.
You're not suffering from uncontrolled bruxism symptoms. Bruxism, also known as teeth grinding, can cause physical damage to teeth over time. The problem is best treated by options other than veneers.
You take reasonably good care of your teeth. This means regular brushing and flossing and seeing your dentist for cleanings and checkups.
Your teeth are relatively straight. Minor cases of tooth misalignment are not a disqualifier for porcelain veneers. Moderate to severe cases, on the other hand, may be best served by other forms of treatment.
Your tooth enamel is in good shape. A minimum degree of healthy enamel is essential for the veneers to bond properly.
When Other Forms of Treatment May Be Your Best Option
One of the great things about modern dentistry is the wide array of solutions it offers for today's patients. But sometimes a particular treatment isn't the best option for you, especially if your oral health problems are more than cosmetic. If this sounds like you, then here are some popular alternatives to consider:
Dental deep cleaning: also known as planing and root scaling, this is an advanced form of teeth cleaning that removes heavy layers of plaque and gingivitis. It's often followed up with a prescription mouthwash for maximum benefits. This is a good option for treating severe cases of tooth decay or gum disease.
Crowns or bridgework: these are options to consider if you're dealing with cavities or gaps in your smile. Not only do crowns and bridges offer health benefits, they're a great way to repair aesthetic problems such as gaps in your smile.
Dentures: modern dentures are attractive, comfortable, and effective at restoring lost teeth. Both full and partial denture plates are available. Dentures are a time-tested remedy to a common problem.
Dental implants. Imagine waking up one day to find that all of your healthy natural teeth have grown back. Unfortunately, dental medicine isn't quite that advanced yet. But implants are the next best thing. Talk to your dentist about them if you're struggling with tooth loss.
 Nowadays there's no reason to suffer needlessly from dental problems. Talk to your dentist in Hackettstown about porcelain veneers and the other options mentioned in this post. Before long you'll be well on your way to a brighter smile and better days.
About the Author
Dr. Arindam Kakkar studied dentistry in India before going on to complete his dental degree at the NYU College of Dentistry. He's highly skilled in both cosmetic and restorative forms of treatment, including veneers. You can reach his office online or by calling (908) 850-0005.