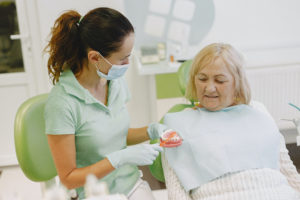 Advancements in materials and technologies allow dentures to look and feel more natural than ever before. Although they are durable, they aren't as strong as your real teeth. Certain habits can damage your dentures and shorten their lifespan. Here are 4 simple mistakes to avoid to get the most from your investment.
1. Sleeping with Your Dentures
No one wants to get caught without their teeth, but it's important to remove your dentures every night. They restrict circulation to your gums during the day. If your soft tissues aren't given time to recuperate, your gums can become sore, inflamed, and infected. Not to mention, your mouth is a perfect environment for harmful bacteria growth, which can increase at night. Not only can bacteria affect your dental health, but some oral bacteria can also lead to health problems, like respiratory infections.
It's best to take your dentures out every night before going to bed. Besides brushing them, soak them in an overnight solution to kill any bacteria missed by your toothbrush. You'll keep your dentures clean and give your gums the break they need to stay healthy.
2. Not Cleaning Your Dentures
Although dentures can't get cavities, that doesn't mean you don't need to brush them. Plaque and food particles can cling to your dentures, weakening them over time.
It's best to use a soft-bristled toothbrush and nonabrasive toothpaste or a mild dishwashing liquid to clean your dentures. Avoid any abrasive products to prevent scratching them, which can lead to unpleasant odors, tarnish their appearance, and trap bacteria.
3. Skipping Routine Dental Appointments
Even if you've lost all your teeth, you still need to see your dentist every 6 months. Cavities and gum disease aren't the only threat to your dental health.
Your dentist will monitor your mouth for any concerns, like symptoms of oral cancer. They will also clean and maintain your dentures to ensure a comfortable fit and optimal function while enhancing their life expectancy.
4. Relying on Denture Adhesive
Denture adhesive can come in handy, but it's not something you want to rely on. If you need an adhesive to prevent slipping and irritation, you're putting a Band-Aid on a potentially big problem. Poor-fitting dentures can injure your gums, cause jaw pain, and affect your general health.
Commit to visiting your dentist regularly to have your dentures adjusted to maintain a snug fit. It's okay to use an adhesive in certain situations, like during a speaking engagement or eating a steak, but don't rely on it daily.
Your dentures can last for many years by giving them the attention they deserve. With the right care at home and from your dentist, you can ensure your pearly whites last for many years.
About Dr. Arindam Kakkar
Dr. Kakkar earned his dental degree from the NYU College of Dentistry and has regularly pursued advanced education in many specialties, like general dentistry. He uses the latest technologies and techniques to promote optimal oral health. If you need dentures or adjustments, request an appointment through our website or call (908) 509-4411.