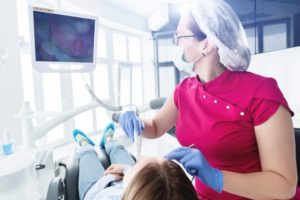 At your routine cleaning and checkup appointment, you go through the usual motions. Your teeth get X-rayed, your hygienist removes the plaque buildup on your teeth, and then your dentist inspects your mouth. During their examination, they stop and reach for an instrument you've never seen before—an intraoral camera. After capturing some high definition images of the inside of your mouth, they show you pictures of a developing cavity. Why is this technology so important for your dentist to use? Keep reading to learn four reasons!
Early, Accurate Diagnosis
The best way to deal with cavities, gum disease, and other problems is to prevent them entirely, but the next best thing is to catch them while they are still early in development. Many dental issues start out small, and it can be easy to miss them if you aren't looking carefully and don't know what you're looking for. Intraoral cameras provide a unique, close-up view of your teeth and other oral structures, allowing your dentist, who is highly trained to spot unusual symptoms, to identify these problems as early as possible. As a result, you can avoid the pain and financial burden of dealing with these issues later on.
Establishing Trust
For most patients, minor problems like small cavities or cracks aren't usually painful. Although it is a good thing that these problems don't cause pain initially, it can make it difficult for the patient to fully comprehend the need for treatment when the dentist finds an issue.
Before intraoral cameras, patients simply had to trust in the dentist's judgment and move forward with treatment blindly. This technology allows patients to see for themselves what's going on in their mouths, build trust with their dentist, and make more informed decisions.
Increased Understanding of Dental Issues
You may already know that brushing and flossing are important habits, but sometimes it takes more than someone repeating this advice for it to sink in. After consistently examining your teeth every six months, your dentist can notice patterns and can show them to you using the intraoral camera. Then, they can give you more specific instructions for caring for your smile to avoid future damage or decay. As a result, you can leave your checkup and cleaning appointments learning something new and useful for a healthier lifestyle.
Capturing Images Comfortably
In the past, the thought of having a camera in your mouth would have seemed impossible. However, with technological advancements, an intraoral camera can easily fit inside your mouth without causing any discomfort whatsoever.
If your current dentist doesn't take advantage of this kind of technology in their office, you may want to reconsider where you go for your dental care. This instrument can make a huge difference and help you have a more rewarding, educational dental experience.
About the Author
For Dr. Ari Kakkar, building trust with patients is extremely important. For more than 15 years, he has practiced with a high ethical standard, provided comprehensive care without needing to refer patients to specialists, and gained advanced training in many areas of dentistry. He uses a intraoral camera and other technologies to improve the patient experience. If you would like to learn more about intraoral cameras, you can contact Dr. Kakkar's team at Skyland's Dental of New Jersey through his website or by calling 908-850-0005.