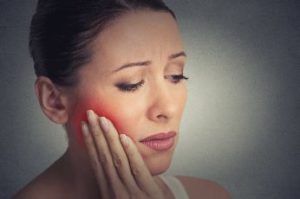 Are you asking yourself "where can I find a dentist near me?" Now is the perfect time to explore this question. February is Gum Disease Awareness Month across the United States. A good way to observe the occasion by knowing a little bit about the stages of gum disease and the treatment options that are available.
How Gum Disease Starts
Your teeth and gums are wonders of nature. They help you to digest food, allow you to speak clearly, and even show your smile off to the world.
But your dental health has an enemy in the form of microscopic bacteria that live in your mouth. These unseen invaders are working 24/7 to find a way past the protective enamel on the outside of your teeth. Once they make it past this barrier, the following process starts:
The germs invade the tooth itself, creating corrosive acids that dissolves the dental pulp. The patient will probably notice tenderness, swelling, and perhaps bleeding in the gums. This is the stage of gum disease known as gingivitis. It can usually be reversed with prompt treatment.
If gingivitis is not halted, then it will lead to full-blown periodontitis. The gums will begin to shrink away from the teeth, causing them to loosen and eventually fall out. This process repeats itself throughout the patient's mouth, with widespread tooth loss as a result.
The infection may spread past the gums and into the bones of the face and jaw, causing them to degenerate. This can cause devastating aesthetic problems for the patient.
Many health experts believe that the germs that cause gum disease can move beyond the teeth and gums and throughout the body via the bloodstream. This may be a leading cause of problems like arthritis, heart disease, and even some forms of dementia.
As you can see, gum disease in Hackettstown is nothing to ignore. Fortunately, modern dental medicine has many ways of treating this problem.
Treatments for Gum Disease
The approach your dentist takes will depend upon the extent of the illness. Possible options include:
Teeth cleaning and lifestyle coaching. These measures are usually sufficient if gum disease is caught early. A dental professional will remove the plaque from the visible surfaces of your teeth and a dentist will suggest ways to control plaque and tartar going forward.
Planing and root scaling. This is a more intensive version of the standard cleaning you receive during a routine dental visit. A dental professional will work both beneath and above the gum line to remove built-up plaque. The dentist will then gently reshape, or plane, the roots of the teeth to allow the gums to re-adhere.
Tooth restoration. Your dentist may recommend dentures, crowns, bridgework, or implants to restore lost teeth.
Gum disease is a serious condition that affects millions of Americans. Make an appointment with a qualified dentist soon if you think you're suffering from this problem. Prompt treatment can help you to save your smile, enabling you to live a better life.
About the Author
NYU College of Dentistry graduate Dr. Arindam Kakkar has been practicing dentistry for over 10 years. An outstanding general dentist, he also has special training in many cosmetic, surgical, and restorative techniques. You can reach his office online or by calling (908) 850-0005.