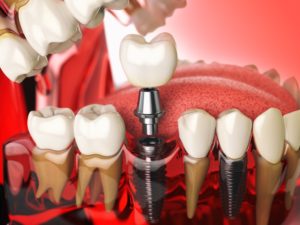 There are many methods to replace missing teeth, but dental implants are the preferred choice among patients and dentists. A dental implant is the only treatment to replicate both the root and the crown. Although they offer predictable results, are dental implants safe? Most people with good oral and general health are candidates for the procedure; however, there are a few things you should know about potential risks.
Safety of Dental Implants
Dental implants are the most reliable method of replacing missing teeth with over a 95% success rate. While most people with tooth loss can benefit from them, your dentist will review your medical history and review any medications you're taking to look for any concerns, like:
Autoimmune Diseases/Diabetes: Autoimmune disease, diabetes, rheumatoid arthritis, and other conditions that can slow healing may prevent your jawbone from fusing with the post.
Medications: Some medications can suppress the immune system or affect bone health, like heartburn medications. They can interfere with the body's ability to process calcium, which can cause failed osseointegration.
Gum Disease: Healthy gums are a requirement for dental implants. Periodontal therapy can treat the infection to create a healthy foundation for your new smile.
Bone Loss: A weak jawbone can provide insufficient support for dental implants. Bone grafting can strengthen weakened areas of bone to ensure your new teeth have the infrastructure they need.
Tobacco: Smoking and tobacco can increase the risk of dental implant failure by up to 20%. Nicotine restricts blood flow to the gums, which can cause inflammation, infections, and delayed healing.
Chemotherapy/Radiation: Chemotherapy and radiation to the head or neck can weaken bone structure.
If you have pre-existing conditions or risk factors, you may still be a candidate for dental implants. Besides learning more about your health history, your dentist will also review a CT scan of your oral structures to look for anything concerning, like infections or bone loss. They'll create the personalized plan you need to safely restore a complete smile.
Protect Your Smile from Failure
Dental implants are proven to last for 30 years or longer with the right aftercare. It's best to brush, floss, and use a daily mouthwash to combat oral bacteria. Your dentist will recommend eating a healthy diet and breaking any bad habits, like smoking, chewing on your fingernails, or using your teeth in place of scissors. Besides caring for your smile at home, visit your dentist every 6 months for a cleaning and checkup.
If you develop red, swollen, or bleeding gums between your regular appointments, don't wait to see your dentist. Quick detection and treatment can prevent your dental implants from failing.
About Dr. Arindam Kakkar
Dr. Kakkar earned his dental degree from the NYU College of Dentistry and has regularly continued his education in advanced treatments, like dental implants, oral surgery, and full mouth restorations. He has the training and qualifications to treat complex oral health issues, like tooth loss. Request an appointment through our website or call (908) 509-4411 to see if dental implants are right for you.