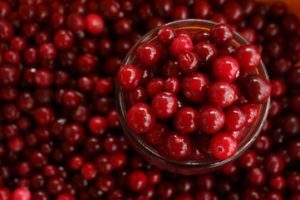 Cranberries are a tasty treat during the holidays. Whether having cranberry sauce with turkey or eating them fresh with your breakfast, the tiny berries are loaded with nutrients that support your oral and general health. While they are beneficial, they can stain your teeth if you aren't careful. You don't have to leave them off your plate if you're worried about stains. Instead, here's how you can harness their health benefits without worrying about them tarnishing your smile.
Cranberries Support a Healthy Smile
Cranberries might be small, but they are packed with nutrients and antioxidants that can lower your risk of certain cancers and urinary tract infections while improving your immune system and lowering your blood pressure. However, their benefits don't end there. A handful of cranberries can reduce your risk for common dental problems, like:
Cavities: Research has found that cranberry juice can reduce 95% of the sugars in your mouth. It makes it difficult for acids to form, which will reduce the amount of cavity-causing bacteria that can erode your enamel.
Oral Bacteria: Cranberries can also combat harmful oral bacteria because they contain a nutrient called proanthocyanidins, which prevents bacteria from binding together. Not only can it reduce bacteria that can lead to cavities and gum disease, but it can also prevent bad breath.
Gum Disease: Since cranberries reduce the risk of bacteria clinging to your teeth and gums, they can prevent gum disease. The berries also decrease amino acids in the mouth, which bacteria need to survive.
Although cranberries can boost your dental health, their dark color can stain your teeth. Not to mention, many sauces and juices also contain a lot of sugar, which can erode your enamel. You can still have cranberries with your breakfast or dinner, but keep a few tips in mind to safeguard your smile.
Maintain a Healthy Holiday Smile
It's best to skip any sugary sauces or juices to lessen your risk of cavities. Eat cranberries in moderation to prevent tooth discoloration. If you can't resist the juicy berries, eat them with a meal to encourage saliva production, which will cleanse your mouth of stain-causing residue.
Your dentist will recommend brushing your teeth after eating. If you can't get to your toothbrush, rinse your mouth with water or chew a piece of sugarless gum to help cleanse your teeth. Don't forget to floss at least once daily.
Besides caring for your smile at home during the holidays, don't forget to visit your dentist for your semi-annual cleaning and checkup. They'll ensure your teeth and gums are healthy to start the new year looking and feeling your best.
About Dr. Arindam Kakkar
Dr. Kakkar earned his dental degree from the NYU College of Dentistry and has continued his education in advanced studies, like dental implants, cosmetic dentistry, oral surgery, and more. He combines his training and experience with the latest techniques and technologies to deliver superior care. If you need a cleaning and checkup before the holidays, contact our office today to schedule an appointment.