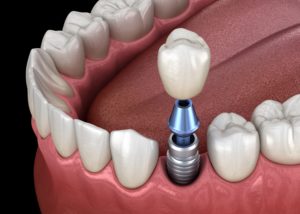 You're going to hear a lot of terms and phrases while on your journey to a complete smile, but don't feel left out of the loop during your dental implant consultation. Your dentist and dental team will use many words and terms that are part of their everyday vocabulary; however, they may sound like a foreign language to you. Don't worry, here are the top dental implant terms you should know, so there aren't any misunderstandings during the road ahead.
Abutment
A dental implant consists of 3 pieces: an implant post, an abutment, and the restoration. The abutment is a special fixture attached to a titanium post to secure the restoration, whether a single crown, bridge, or denture.
Bone Grafting
Patients who have lost bone in their jaw may require an additional procedure to strengthen it to ensure it can properly support a dental implant. Not all patients require bone grafting for dental implants.
Crown
When picturing a crown, you might see a dark cap covering a tooth; however, it can also be used with a single unit dental implant. It is attached to the abutment to replicate the portion of a lost tooth above the gum line.
Endosteal Implant
An endosteal implant is the most common type used to hold at least one prosthetic tooth. Your implant dentist will place screws, plates, cylinders, or blades directly in the jawbone through oral surgery.
Eposteal Implant
An Eposteal implant differs from the modern method because it rests on the jawbone and not within it. They are considered outdated; however, they can be recommended for patients who have a high risk of bone resorption.
Mini Implant Dentures
Toothpick-sized implants are placed into the jaw using a minor surgical procedure. You can be fitted with your new dentures the same day, so you won't have to go without any teeth while you heal.
Osseointegration
Osseointegration is a biological process that occurs when a dental implant is placed in the jawbone. It replicates the root, stimulating bone growth. Over the course of several weeks, the bone will fuse to the implant to make it load-bearing.
Sinus Augmentation
If there isn't enough bone between the back teeth and maxillary sinuses, a sinus augmentation may be used. It lifts the sinuses to ensure there's adequate space for the implant post without it protruding into the cavity. It can be used along with bone grafting.
Subperiosteal Implant
Patients who can't wear traditional dentures or have little bone height may benefit from a subperiosteal implant. It sits on top of the jaw and features a metal framework with posts protruding through the gum, which anchors the prosthetic teeth in place.
If you have any questions throughout your dental implant journey, don't hesitate to ask your dentist for clarification.
About Dr. Arindam Kakkar
Dr. Kakkar earned his dental degree at the NYU College of Dentistry. He has undergone advanced continuing education in all aspects of dentistry, including dental implants and oral surgery. If you're ready to treat your tooth loss, contact our office today to schedule your consultation for dental implants.