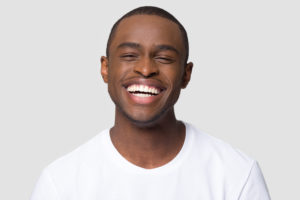 A smile can say a lot about a person, so it's important that you like yours! Thanks to modern advancements in cosmetic dentistry, there are plenty of ways to improve the appearance of your pearly whites. However, many would agree that dental veneers offer the most dramatic results! These beautiful shells of porcelain can completely transform the color, shape, and size of one or more teeth with a single, simple procedure. Here are four ways this popular cosmetic service can improve your smile!
1.) Correct Multiple Cosmetic Flaws at Once
Did you know that your enamel is the hardest material in your body, even harder than your bones? Unfortunately, it's far from invincible. From sugary, acidic diets, to bad chewing habits, to a simple fall or blow to the face, life can take a toll on your teeth. If you have chipped or cracked teeth, you may feel a lot less confident about smiling. Thankfully, whether you have one damaged tooth or multiple cosmetic flaws, veneers can erase your dental imperfections in as little as two appointment! Veneers cover the entire visible portion of a tooth with a beautiful tooth-shaped shell that's custom-made exactly to your liking.
2.) Brighten Stubborn Stains & Discoloration
While teeth whitening is an excellent service that can brighten almost anyone's smile, there are certain stains that this popular service can't lift. If your teeth are discolored from an injury inside the tooth, an overexposure to fluoride in childhood, or certain medications, teeth whitening won't be able to give you the dazzling smile you deserve. In these cases, veneers offer an ideal solution! The dental porcelain each veneer is crafted from is well-known for how well it mimics the appearance of natural tooth enamel. They're stain-resistant as well, so it will be easy to keep your new smile sparkling!
3.) Change the Shape of Your Smile
Very few of us are born with naturally perfect teeth. If you have a gummy smile or teeth that are naturally misshapen, you may envy the flawless pearly whites you see on the silver screen and the internet. However, the award-winning smiles of Tom Cruise, Miley Cyrus, Morgan Freeman, and many more are all thanks to dental veneers! Even though dental veneers are a popular treatment in Hollywood, anyone can get a red carpet-ready smile. Veneers allow you to redesign the appearance of your teeth however you like, so you can finally achieve a beautiful, uniform set of pearly whites!
4.) Straighten Your Smile Without Orthodontics
Do you have small gaps or spaces between your teeth? Not only are slightly crooked teeth unsightly and highly noticeable, but they can trap plaque and bacteria to increase your risk of oral health issues! If your misalignment is slight, you may not need an orthodontic treatment to get a straighter, healthier smile. Dental veneers can easily close small gaps, cover up slightly uneven spacing, and give you a uniform smile without any metal wires or clear aligners.
If you're not happy with your smile, call your Hackettstown dentist! They can help you discover if dental veneers are a good choice for you.
About the Practice
At Skylands Dental of New Jersey, Dr. Arindam Kakkar is proud to offer sophisticated, comfortable, and beautiful cosmetic dentistry treatments in Hackettstown. He has completed hundreds of hours of continuing education in order to stay current with the latest dental innovations and provide his patients with the most pleasant dental experiences. To see if dental veneers are right for you, he can be contacted via his website or at (908) 850-0005.