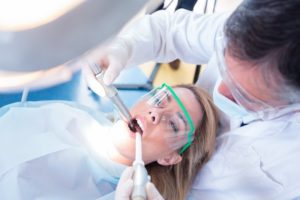 Have you been having an intense, persistent toothache? If so, you might find it hard to fit an appointment with your dentist into your hectic schedule. However, waiting too long to seek treatment could not only cause your pain to worsen, but you might end up losing your tooth! For a severe toothache, your dentist might recommend root canal therapy to save the tooth and relieve your pain. But how long does a root canal take? Let's talk about some of the factors that affect the length of the root canal treatment process.
How Root Canal Therapy Works
Also known as endodontic treatment, root canal therapy is actually one of the most common restorative dental procedures performed in the U.S. However, dentists tend to only recommend root canal therapy when no other treatments would be enough to save a tooth.
Root canal therapy is necessary when the soft tissue in the center of a tooth, called the pulp, has become infected. During the procedure, your dentist numbs your mouth before creating a small hole in the top of your tooth. Then, they target the infection at its source by clearing away the damaged pulp. After cleaning and drying the inside of the tooth, the dentist fills the area with a biocompatible material and closes the hole. Typically, they place a permanent filling or dental crown over the tooth a few weeks later.
Factors That Affect the Length of Your Root Canal
Generally, root canal therapy takes somewhere between 30 and 90 minutes. Most root canals can be completed in a single visit, but complex cases may need two separate appointments. With that said, several variables can impact how long your root canal will take, including:
The severity of the infection
The location of the tooth within the mouth (front teeth only have one root that needs treatment, while molars can have as many as four)
Whether your tooth requires a filling or a crown afterward
How long you can comfortably sit with your mouth open
How Long Does It Take to Recover After a Root Canal?
For most patients, root canal recovery only takes a few days. You'll probably experience some mild soreness for the first 24 to 48 hours after your procedure, but taking over-the-counter pain medication or applying a cold compress should be enough to manage it. To ensure a smooth and speedy recovery, maintain your normal routine of twice-a-day brushing and daily flossing. Additionally, try to avoid chewing with the treated tooth until the final crown or filling has been placed.
Whether your root canal takes just half an hour or a bit longer, this treatment can soothe your pain and save your tooth from having to be extracted. Taking the time to get a root canal when you need one could make a world of difference for your smile!
About the Author
Dr. Arindam Kakkar is an experienced dentist in Hackettstown, NJ who practiced general dentistry in India for five years before achieving his Doctor of Dental Surgery degree from the prestigious New York University College of Dentistry. He is passionate about continuing education and prioritizes patient comfort, so you can rest assured that with Dr. Kakkar, your root canal will be safe and stress-free. To learn more about how root canal therapy can benefit you, contact Skylands Dental of New Jersey at (908) 850-0005.