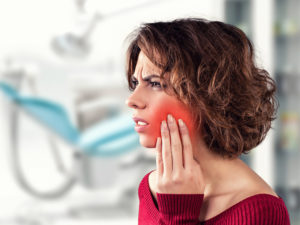 Dental implants are fast becoming one of the most popular ways to replace missing teeth. In fact, according to the American Dental Association, more than 5 million implants are placed each year by dentists in the United States! In general, dental implant treatment is an extremely reliable tooth replacement solution. However, although rare, implant failure can and does occur. Whether you recently underwent implant treatment or are currently considering replacing your missing teeth, it's important to know the signs of a failed dental implant and how to prevent dental implant failure.
Signs of a Failed Dental Implant
Dental implant failure can generally be divided into two categories: short-term and long-term. Short-term implant failure usually occurs when the implant post does not integrate fully with the jawbone. When this process fails, an implant cannot provide adequate support and stability for a crown, bridge, or implant denture. Long-term implant failure, meanwhile, is often caused by peri-implantitis, a chronic infection of the gum and bone that supports a dental implant.
Signs of both types of implant failure include:
Shifting implant or restoration
Swelling around the implant
Gum inflammation
Gum recession
Difficulty chewing
Severe pain or discomfort
What Causes Dental Implant Failure?
The success of implant treatment depends on a variety of factors. However, certain habits and medical conditions can increase your risk of experiencing dental implant failure. Here are some of the major risk factors for a failed dental implant:
Smoking tobacco – Smoking restricts blood flow to the gums, which can interfere with the healing process. Multiple studies have shown that smokers experience a dental implant failure rate of up to 20 percent.
Gum disease – This common infection can lead to longer healing times, bone loss, and implant failure.  
Poor oral hygiene – Daily brushing and flossing are critical to preventing infections near the implant site.  
Weak jawbone – Dental implants require a strong, thick jawbone in order to integrate successfully and support a new tooth.  
Medical conditions – Autoimmune diseases such as rheumatoid arthritis can cause the body to heal slower, which can prevent successful osseointegration.
Your dentist – When it comes to replacing missing teeth, be sure to partner with an experienced implant dentist.
How to Prevent Dental Implant Failure
Luckily, there are simple steps you can take to maintain a healthy smile with dental implants. For example, brushing twice a day for a full two minutes each time is key to preventing infections around an implant site. In addition to brushing, be sure to:
Floss daily and rinse with mouthwash
Avoid smoking or chewing tobacco 
Wear a mouthguard at night if you grind your teeth
Eat plenty of calcium-rich foods, such as milk, yogurt, cheese, and broccoli
Visit a dentist every six months for a routine checkup
By following these straightforward tips, you can help ensure that your dental implants and your natural teeth stay in excellent shape for as long as possible.
About the Author
Dr. Arindam Kakkar is an experienced implant dentist serving Hackettstown and surrounding communities. A proud alumnus of NYU College of Dentistry, he performs every step of the dental implant process in-house, including implant placement. To learn more about dental implant treatment and aftercare, visit Dr. Kakkar's website or call 908-850-0005.