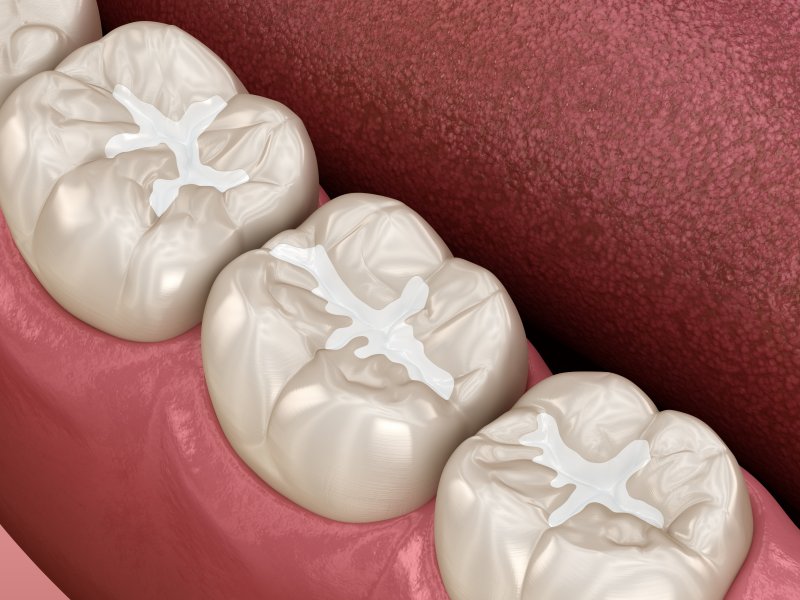 There's a good chance you've had to get a dental filling in the past. After all, the CDC has found that 90% of Americans over age 20 have at least one cavity. Assuming that applies to you, your dentist likely filled the affected tooth. But have you wondered, "How long do fillings last?" The treatments don't last forever, so it's essential to know when they need to be re-examined. Well, your local dentist is here with the answer. Read on to learn how long fillings should last, when you should replace them, and how best to care for them.
So, How Long *Should* Dental Fillings Last?
Fillings typically last around ten years or so, though it can depend on the type you have. Both amalgam and ceramic ones can work for fifteen years, while those made of gold do so for twenty years or more. On the other hand, composite fillings that match tooth color usually last about seven years.
When Do You Replace Them?
You'll need to replace a filling when it can no longer protect your tooth from decay. In most cases, that's when it cracks, wears down from use, or falls out of your mouth.
Your dentist should be able to spot any treatment problems during a routine checkup. Using an explorer tool, they can see whether the filling is still sealed to the tooth. They may also take dental X-rays to see if there's decay under the filling or anywhere nearby.
A sore or sensitive tooth may also show it's time for a replacement.
How Do You Care for Them?
You'll need to care for your fillings well, or they won't last their whole lifespan. That being the case, follow the tips below:
Practice Good Oral Hygiene – As you always should, brush your teeth twice daily, floss once daily, and rinse regularly with an antiseptic mouthwash.
Avoid Bad Dental Habits – Clenching or grinding your teeth could damage your fillings, not to mention hurt your teeth and jaw.
Visit Your Dentist Regularly – You should attend dental checkups and cleanings at least every six months or so. That way, your dentist can check the fillings' condition.
Even if dental fillings don't last forever, you have the power to keep them around for a good, long while. Doing so will help your smile look and feel better for years to come!
About the Author
Dr. Arindam Kakkar is a dentist based in Hackettstown, NJ, having earned his DDS from NYU's College of Dentistry. He's well-versed in all aspects of general, restorative, and cosmetic dentistry, as well as fillings and Invisalign. Ever since graduation, he's constantly kept up with the latest dentistry techniques and technology. Dr. Kakkar currently practices at Skylands Dental of New Jersey and can be reached at his website or by phone at (908)-850-0005.