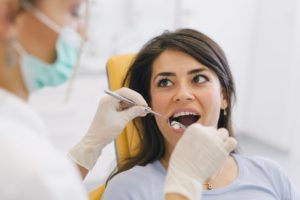 If you can confirm that your family has a history of gum disease, that makes you more prone to future health problems. As with any other disease, the first step to combatting this is to be prepared, stay informed, and tell your dentist to include that information in your oral health chart. You can also seek periodontal therapy from a dentist in Hackettstown and solve any gum disease symptoms you may be currently having. Here's a breakdown of what you can do to prevent gum disease at home and how you can expect your dentist to help.
What Are the Signs of Gum Disease?
According to the American Dental Association, genetics is a considerable risk factor for gum disease. Unfortunately, any genetics you had passed down to you are out of your control, so your current oral health habits may not be enough to thwart health problems.
Be sure to watch out for the early signs of gum disease like swollen tender gums that bleed while brushing or flossing. Without treatment, diseases like gingivitis can manifest into periodontitis and eventually tooth loss.
How Can I Prevent Gum Disease at Home?
To reduce plaque, or the substance that builds on your tooth's enamel and irritates your gums, brush your teeth for at least 2 minutes in the morning and at night Be sure to focus on your gumline, your back teeth, and your tongue, as bacteria can easily hide in those hard-to-reach and hard-to-clean areas.
It's also essential to include flossing in your routine as foods you eat will get lodged in between your teeth. Bacteria loves harboring in food debris, so removing it is essential to reducing future gum problems.  Make sure your diet consists of nutrients your teeth and gums need such as celery, apples, carrots and leafy greens. Green tea also contains specific antioxidants called catechins that work to fight the type of oral bacteria responsible for gum disease. Try introducing a cup of tea a day to reduce inflammation your gums experience.
What Can My Dentist Do To Help?
Stay on top of your dental visits by scheduling a regular checkup and dental cleaning every six months. The more your dentist knows about your family history and heightened risks, the better they can help you get to proper health. This will give you more control of your oral health and keep you better prepared if future health problems arise.
Be sure to share any history of gum disease with your general practitioner as well. Gum disease can easily be connected to other serious health issues such as cardiovascular disease and specific types of cancer. While gum disease is the number one cause of tooth loss, the bacteria from it can seep into other parts of your body, causing further complications.
Stay on top of periodontal disease by scheduling your next checkup with your dentist today!
About the Author
Dr. Zahir A. Khokhar graduated with a Doctor of Dental Surgery Degree (DDS) from the University of Detroit Mercy as well as a Specialty Certificate in Periodontics and Master Degree in Health Sciences (MHS) from the Medical University of South Carolina. His practice offers several periodontal therapies, including non-surgical therapy, laser periodontal treatment, periodontal surgery, crown lengthening, and soft-tissue/bone grafts. To learn more about these treatments and his practice, visit his website or contact him at (908) 850-0005.