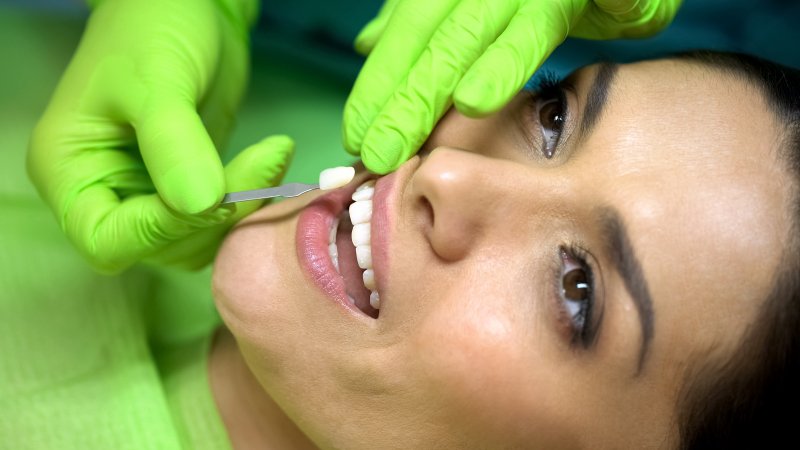 Are you looking to enhance your smile? Everyone wants to feel confident about the way they look. One way many people have been able to work towards their smile dreams is through cosmetic dentistry. While there are many different treatments available out there, one of the preferred methods of transforming smiles is porcelain veneers. Because of their many benefits and beautiful results, they have become a staple for celebrities and many more. Continue reading to learn more about how veneers work and the ways they can improve your life.
What Are Porcelain Veneers?
Porcelain veneers are wafer-thin custom shells of tooth-colored porcelain that are made to cover the front surface of the tooth in order to cover up and mask cosmetic imperfections. They can eliminate a variety of different aesthetic issues like teeth that are discolored, stained, worn, chipped, broken, misaligned, uneven, irregularly shaped, or gapped.
What Are the Benefits of Porcelain Veneers?
There are all sorts of benefits of getting porcelain veneers as a cosmetic option. Here are just a few of them:
Natural Appearance: Many people worry that everyone will be able to tell that they have gotten cosmetic dental work done. When it comes to porcelain veneers, this will not be the case. This type of restoration can give you the changes you want without taking away realism. Your veneers will be custom-made to match the exact size, shape, and color needed to give you a beautiful, natural result.
Minimally Invasive: This procedure is not invasive like other cosmetic treatments. After your first consultation, where your cosmetic dentist will determine whether or not this is a good treatment for you, they will prepare your teeth by removing a very small amount of your protective enamel. Impressions will be taken and sent off to a lab where your permanent veneers will be crafted. Until then, your dentist will provide you with temporary veneers to protect your smile. During your next appointment, you will have your new veneers permanently secured to your teeth.
Longevity: Porcelain veneers are cemented to your teeth and can resist both decay and stains better than your real teeth can because they are non-porous. When you care for them properly, they can last between 10 and 15 years before you need to have them replaced.
Easy to Maintain: Taking care of your veneers isn't much different than caring for your teeth. By brushing twice and flossing at least once a day, you can keep them in good shape and maintain excellent oral health.
Alternative to Orthodontic Treatment: If you have minor misalignment, like slight overlapping of the teeth or uneven spacing, this can be fixed by veneers, therefore eliminating the need for braces.
If you're looking for a way to amp up your smile, porcelain veneers may be the answer. Because of their benefits, it's no wonder that they're so popular.
About the Author
Dr. Arindam Kakkar graduated from NYU, College of Dentistry and is committed to completing hundreds of hours of continuing education in order to stay up to date on new dental innovations. He offers porcelain veneers as a cosmetic option at his practice in Hackettstown. For more information on porcelain veneers or to schedule a consultation, visit his website or call (908) 850-0005.