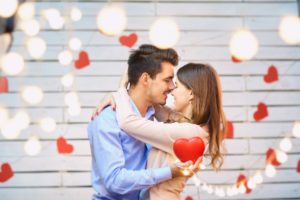 Valentine's Day is right around the corner. If you've been planning the perfect date, you've probably picked an amazing restaurant and a delicious box of candy, but are you forgetting something? A bright smile can ignite your dating life. Although you shouldn't judge a book by its cover, many people admit they form an opinion about someone based on their teeth. Don't let stains and discoloration give the wrong impression. Here's how you can revamp your smile just in time for your date.
Improve Your Oral Hygiene Routine
You can't brush away discoloration, but you can make your teeth look cleaner and freshen your breath. Besides brushing twice daily, floss every night before bed to remove accumulations between your teeth. You'll ensure unpleasant odors or cleanliness concerns don't put a hitch in your evening plans.
Skip OTC Whitening Products
If you want a whiter smile in a hurry, OTC products may seem like the ideal solution. They are convenient and affordable, but they aren't worth the money. Despite their claims, OTC whitening kits won't offer much improvement in the appearance of your stains because they don't contain professional-grade whitening agents. Not to mention, not everyone is a candidate for whitening products. You don't want your date night to be interrupted by a dental emergency because a whitening product wasn't right for you. It's best to skip the risk and visit a professional.
Visit Your Cosmetic Dentist
Your cosmetic dentist can get your smile significantly whiter before Valentine's Day. After examining your mouth to ensure your teeth and gums are healthy, they will create a personalized treatment plan, which can include:
In-Office Treatment
Your cosmetic dentist can get your teeth 8 shades whiter using an in-office system. A highly concentrated whitening agent will penetrate your enamel to resolve stains and discoloration. After just one appointment, your teeth will be significantly whiter.
At-Home Treatment
You can combine the convenience of an OTC kit with an in-office treatment using a take-home product from your dentist. The kit will contain everything you need to achieve in-office results from the comfort of home. You'll use the professional-grade whitening agent for 1-2 weeks to reach your goals.
Shine Your Brightest for Valentine's Day
Besides traditional whitening treatments, your cosmetic dentist has other solutions to achieve the picture-perfect smile you desire, like veneers or dental bonding. They'll explain all your options during your consultation to transform your smile.
Don't let your smile leave the wrong impression. Schedule a consultation with your cosmetic dentist to look and feel your best to boost your dating life.
About Dr. Arindam Kakkar
Dr. Kakkar earned his dental degree from the NYU College of Dentistry and has completed extensive advanced training in many dental specialties, like cosmetic dentistry. He has the skills and qualifications to perform 95% of all treatments in-office to save time. If you want a vibrant smile before a big event, contact our office today to schedule your consultation.