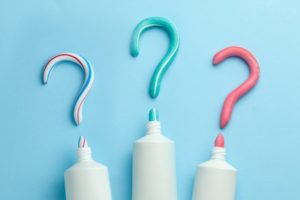 Do you know the familiar feeling of pain when you sip on a beverage that's either hot or cold? You aren't alone. A survey of dental offices suggests that one in eight people suffer from sensitive teeth. It can be caused by several different reasons, but you don't just need to put up with it. By choosing the correct toothpaste, you may be able to get some relief. Read on to learn more about teeth sensitivity and what you can do to reduce it.
What Causes Teeth Sensitivity?
Beneath the enamel is a sensitive layer of the tooth called "dentin." When it becomes exposed, you are likely to feel increased sensitivity. Typically, this exposure is caused by worn tooth enamel or exposed tooth roots. But sometimes it can be the result of other factors like cavities, a chipped tooth, a worn filling, or gum disease. Either way, it is best to address the issue with your dentist to rule out any serious issues before they become worse over time. As soon as you've determined that there isn't a problematic underlying issue, you can look for other solutions, like a toothpaste designed for sensitive teeth.
How to Choose a Toothpaste for Sensitive Teeth
Sensitivity toothpaste works by covering up exposed dentinal tubules. This type of toothpaste also contains fluoride which has been shown to strengthen tooth enamel and prevent tooth decay. You may not notice the difference right away. It takes most people about a month to experience the benefits. Here are a few things that you should consider when choosing a sensitivity toothpaste:
Check the label for active ingredients. You want to ensure that the toothpaste caters to people who have sensitive teeth.
Make sure that you are choosing a brand that you know and trust. You could even do some research beforehand to see which is most effective and reliable.
Don't be spending top dollar on a toothpaste when you aren't even sure how much you'll like it. Many sensitivity toothpastes are around the same price as normal fluoridated ones.
Look for the American Dental Association (ADA) Seal of Acceptance. This means that the product has been scientifically evaluated by independent experts to ensure that it is safe and effective. Often times, this means that the product is meeting higher standards than what the law requires.
Having sensitive teeth can be frustrating, especially if it gets in the way of enjoying your favorite foods and beverages. By talking to your dentist and using a toothpaste formulated for people just like you, you are likely to get some relief!
About the Author
Dr. Arindam Kakkar is a well experienced dentist serving patients in Hackettstown, NJ and surrounding communities. After earning his general dentistry degree and gaining five years of experience in India, he attended the NYU College of Dentistry where he was elected to become a member of the dental honor society, OMICRON KAPPA UPSILON. Dr. Kakkar has spent hundreds of hours on continuing education to keep up with modern dental innovations. For more information or to schedule an appointment, visit his website or call (908) 850-0005.