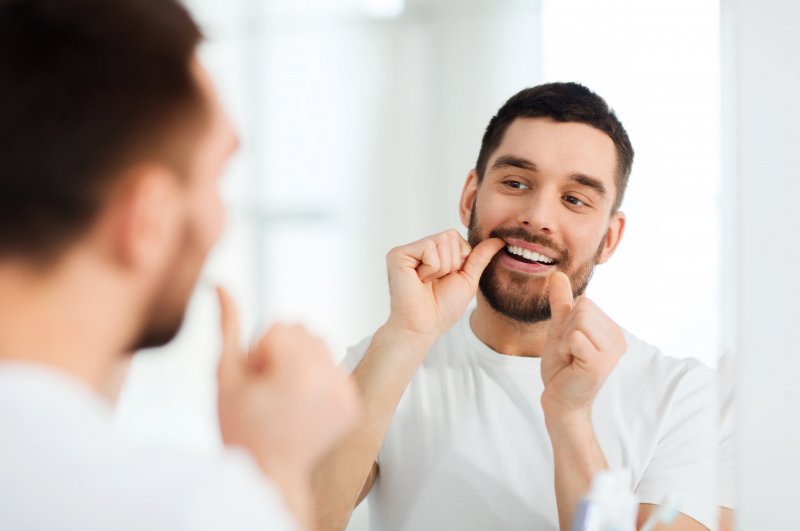 If you didn't already know, dental implants are highly effective at restoring smiles. In fact, these prosthetics have a long-term success rate of over 95 percent! That said, you need to floss them daily to get the most use out of them. Otherwise, there's a chance your treatment could fail early. Your New Jersey dentist, thankfully, is here to keep that from happening. Read on to learn why flossing dental implants is crucial and how best to do so.
Why Should You Floss Your Implants?
Implants need proper care to last as long as possible. However, a toothbrush can't do the job alone; it can't reach all the areas of your mouth. As such, even thorough brushing leaves bits of plaque on your implants. Such leftover bacteria could then cause peri-implantitis and ruin your new teeth.
Things change, though, if you add floss into the mix. By both brushing and flossing your dental implants, you'll likely keep them from failing. After all, dental floss can clean those hard-to-reach places in your mouth.
Four Steps to Flossing Dental Implants
While implants look like natural teeth, you need to floss them in a special way. Therefore, follow the steps below when you do:
Thread the Floss: Unlike flossing your natural teeth, you need to thread the string between your implants and gums. You could make the process easier with a floss threader — a handheld device with a loop at one end and a flat edge at the other.
Hold & Slide It Properly: When using the floss, hold it around your fingers in each hand and slide it up and down the sides of your implant(s).
Consider an Oral Irrigator: If traditional floss is too hard to use, try an oral irrigator instead. Its pressurized water spray can loosen food and plaque from around the implants.
Be Careful: Make sure not to push your floss into the gum pocket. Gums attach to implants with a seal, and excess force could break the latter. If that happens, bacteria could enter exposed areas and undo the implant's fusion.
While flossing dental implants might seem bothersome, it'll protect your prosthetics. You should thus remember the tips above — they'll preserve your restored smile!
About the Author
Dr. Arindam Kakkar is a dentist based in Hackettstown, NJ, having earned his DDS from NYU's College of Dentistry. He specializes in all aspects of general dentistry — checkups, cleanings, cosmetic work, and even tooth replacement. Furthermore, he's spent hundreds of hours on continuing education to stay updated on dental innovations. Dr. Kakkar currently practices at Skylands Dental of New Jersey and can be reached on his website or by phone at (908)-850-0005.