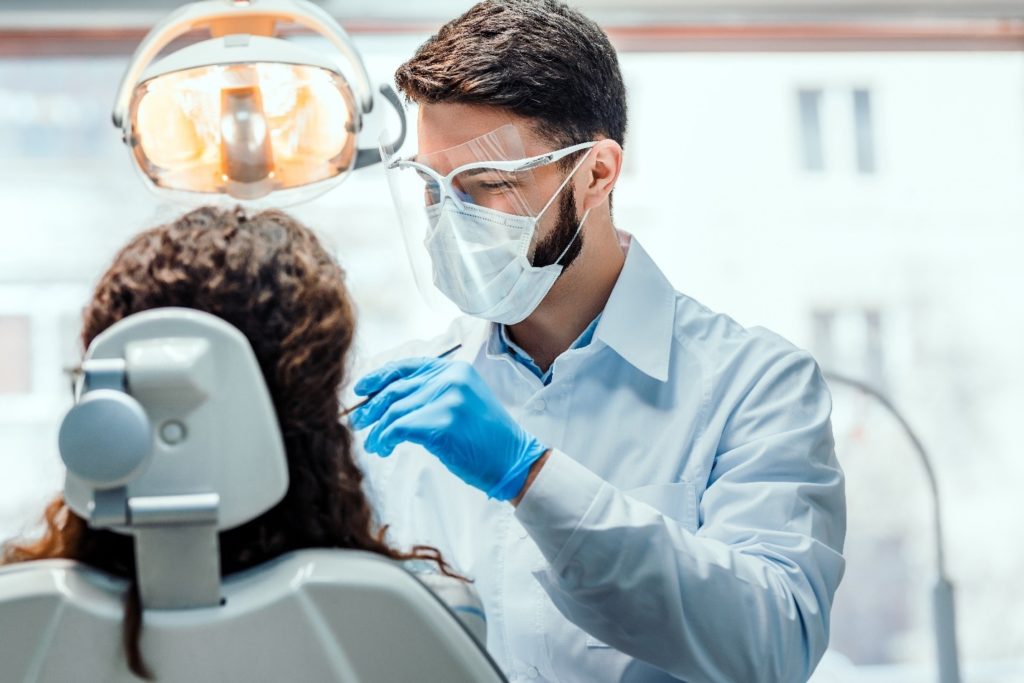 April is recognized as Oral Cancer Awareness Month, serving as a crucial reminder to increase awareness about the risk factors associated with oral cancer. This month-long observance provides an ideal opportunity to educate oneself and others about the importance of early detection and prevention. By understanding the various risk factors, individuals can take proactive steps towards reducing their risk. So, keep reading as we talk about the potential risk factors of oral cancer as well as what you can do to minimize your risk of developing it.
11 Common Oral Cancer Risk Factors
While oral cancer can affect anyone, irrespective of their background, being aware of the specific risk factors is crucial. By understanding these common risk factors associated with oral cancer, we can take proactive measures to safeguard our oral health. Some of the key risk factors include:
Age, with it being more prevalent among individuals over the age of 40
A family history of oral cancer or other types of cancer
HPV (Human Papillomavirus)
A weakened immune system
Exposure to sunlight, which can raise your risk of lip cancer
Chronic poor oral hygiene
Tobacco use
Other types of cancer in the head or neck
A diet that's low in fruits and veggies
Heavy alcohol consumption
8 Tips for Minimizing Your Risk of Oral Cancer
To minimize the risk of oral cancer, consider incorporating these helpful tips:
Avoid tobacco and drinking excessively: Two crucial actions that can substantially reduce the risk of oral cancer are quitting smoking and limiting alcohol intake.
Protect your lips from the sun: Protect your lips from UV rays and lower the risk of sun-related damage by choosing a lip balm with a minimum SPF of 15 for added sunscreen defense.
Get regular dental checkups: Regularly scheduling dental visits is crucial as they enable your dentist to conduct routine exams and effectively screen for any signs of oral cancer.
Eat a healthy diet: Exercise caution and minimize your consumption of sugary, acidic, and starchy foods and beverages. Incorporating a diet abundant in fruits, vegetables, dairy, nuts, lean meats, and fish.
Know the signs and symptoms: Stay vigilant about any changes in your mouth, including the presence of sores, lumps, or white/red patches. If you observe anything abnormal, promptly make an appointment with your dentist for further evaluation.
Maintain optimal oral health: Establish a steadfast oral hygiene routine by brushing your teeth twice daily for two minutes per session. Also, incorporate nightly flossing and antibacterial mouthwash for optimal oral health.
Lead a healthy lifestyle: In addition to maintaining a well-balanced diet, it is important to incorporate regular exercise into your routine to enhance your immune system.
Drink plenty of water: Water is essential for maintaining good oral hygiene as it assists in removing food particles and bacteria, while also stimulating saliva production to keep the mouth adequately moisturized.
About the Practice
For exceptional dental care, trust the esteemed team at Skylands Dental of New Jersey, led by Dr. Arindam Kakkar. Offering comprehensive services, including routine checkups and thorough oral cancer screenings, they prioritize your oral health. With their expertise in cutting-edge dental techniques and unwavering commitment, they are the ideal choice for all your dental needs. To schedule an appointment with Skylands Dental of New Jersey or to explore their services, contact their office at (908) 850-0005 or visit their website.