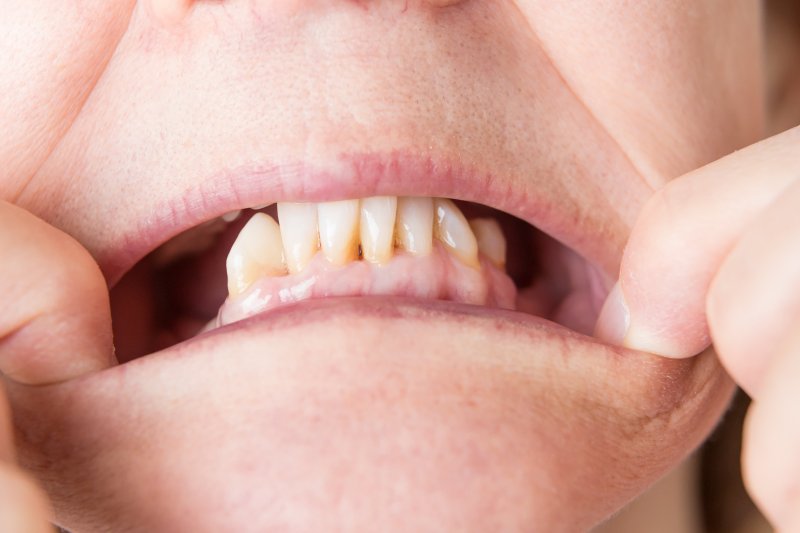 Perhaps you're wondering why you should replace a missing back tooth. "After all," you think, "it isn't like the problem affects my visible smile." In fact, you may even believe the lost pearly white won't have any harmful effects. However, this attitude is misplaced; there are actually many oral health risks of not replacing a lost back tooth. That said, it's crucial that you get something like a dental implant. To learn more, here's a summary of the matter from your Hackettstown dentist.
The Oral Health Risks of a Missing Back Tooth
True enough, a missing back tooth won't immediately affect your smile. Even so, it'll trigger several oral health problems eventually.
For starters, having a lost molar leads to dental wear and tear. With one less tooth in your mouth, your other teeth will have to work harder and bear more pressure. Over time, this change will lead to premature erosion that harms enamel and causes other pearly whites to fall out. The space left by your missing tooth will also shift your other teeth, worsening said loss. You'll then have fewer teeth, and the ones you do have will look crooked and misaligned.
The missing back tooth will also cause problems for your jaw. For example, the now-empty socket in your jawbone will trigger the surrounding bone to shrink. This re-absorption will then cause your mouth to sag, making you seem older. Plus, your lost pearly white could cause changes to the joints in your jaw, leading to TMJ disorder.
Why Switch to a Dental Implant?
Besides filling the gap in your smile, a dental implant would have multiple benefits for you. These include the following:
Tooth Loss Prevention: Because implants fuse with your jaw, they keep surrounding teeth from tilting and shifting. As a result, they reduce your risk of further tooth loss.
A Younger Face: Implants also stimulate and maintain the bone tissue in your jaw. By doing so, they help keep your face looking full, taut, and young.
Better Chewing: Since implants are secure and permanent, they restore more of your chewing ability. While dentures only offer 40% or so of your former bite force, the titanium alternatives provide 70%!
A Natural-Seeming, Long-Lasting Smile: Dental implants look and act like natural teeth. Their porcelain surfaces look just like tooth enamel, and their materials ensure they last for fifteen or even twenty years.
Even if a missing back tooth doesn't seem bad at first, it isn't something you should bear. Therefore, talk to your local dentist about possible implant options in the coming days.
About the Author
Dr. Arindam Kakkar is a dentist based in Hackettstown, NJ, having earned his DDS from NYU's College of Dentistry. Since starting his dental career, he's spent hundreds of hours on continuing education to ensure he's up-to-date on all new dental innovations. As such, he specializes in high-quality preventive, cosmetic, and restorative treatments, including dental implants. Dr. Kakkar currently practices at Skylands Dental of New Jersey and can be reached on his website or by phone at (908)-850-0005.