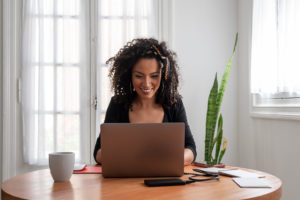 Did you have to put off a dental checkup because of the COVID-19 quarantine? Just because you cannot visit your dentist in Hackettstown does not mean you should stop taking care of your teeth at home. In fact, it is more important now than ever to take steps to maintain a healthy mouth, body and immune system. With that in mind, here are 5 helpful tips to preserve a healthy smile and prevent dental emergencies during the quarantine.

#1: Brush After Every Meal
One advantage of being stuck at home under quarantine is that you can much more easily brush your teeth after every meal! Every time you eat, the bacteria in your mouth break down tiny food particles and produce acids that harm your teeth. Over time, these acids wear down tooth enamel and leave your teeth vulnerable to decay. Frequent brushing helps remove harmful bacteria in your mouth and preserve your healthy smile.
#2: Drink More Water
Even if you are not exercising as much at home, you should still be drinking plenty of water to stay hydrated. Drinking more water helps promote cardiovascular health and balances blood sugar, among other health benefits. In addition, drinking tap water can also help protect your smile! In many communities, water from the tap contains fluoride, a naturally-occurring mineral that strengthens teeth and reduces the risk of tooth decay.
#3: Do Not Use Your Teeth as Tools
Using your teeth to open packages is not a good idea, especially right now! First, research suggests that Coronavirus can live on surfaces for several hours or longer, depending on the type of material. By using your teeth to open small bags or other packages, you may increase your risk of contracting the virus. Second, using your teeth as a tool is an easy way to accidentally chip or crack your teeth. Avoid a trip to an emergency dentist in Hackettstown by just grabbing the scissors instead!
#4: Eat Teeth-Healthy Foods
Including plenty of calcium, phosphorous and Vitamin C into your diet can boost both your overall health and your smile. Calcium and phosphorus are both minerals that strengthen enamel and build strong, healthy bones. Meanwhile, Vitamin C can protect your gums from gingivitis. Here are some common sources of each:
Calcium is found in milk, cheese, plain yogurt and other foods
Phosphorus is found in fish, lean meat, nuts and more
Vitamin C is found in citrus fruits as well as tomatoes, peppers, broccoli and more
#5: Wear a Mouthguard at Night
These uncertain times can cause a lot of stress and anxiety. If you find that you are clenching your jaw or grinding your teeth at night due to stress, wear a mouthguard while you sleep. A mouthguard will prevent your teeth from chipping while also relieving tension in your jaw muscles.
Follow the 5 tips above to help maintain a healthy body and smile while preventing dental emergencies during the quarantine. Remember, once the stay-at-home orders are eased, you should still contact your dentist in Hackettstown for a checkup and professional cleaning.
About the Author
Dr. Arindam Kakkar is a well-rounded dental professional who is proficient in all aspects of general dentistry, from dental implants to cosmetic fillings and beyond. Once the quarantine is lifted, the proud NYU College of Dentistry graduate is eager to get back to serving the residents of Hackettstown and surrounding communities. For more preventive oral care tips, visit Dr. Kakkar's website or call 908-850-0005.