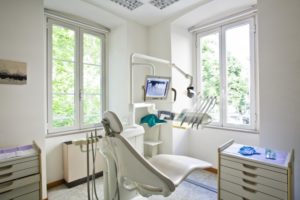 Due to the nature of their work, dental professionals have always kept their practices exceptionally clean. They adhere to a set of strict infection control protocols to keep their patients safe from sicknesses like the common cold and the flu. During the COVID-19 pandemic, these ambitious sanitation standards are being raised even higher to prevent the spread of the novel coronavirus. Read on to learn more about five key dental safety protocols your Hackettstown dentist utilizes to safeguard your health during your appointment in COVID-19.
1.) Excellent Hand Hygiene
According to the Centers for Disease Control and Prevention, regularly washing your hands is one of the best ways to keep yourself safe from all manner of illnesses, including COVID-19. Since a dental professional's hands come in close proximity to all their patients' mouths, excellent hand hygiene has always been vital in dentistry. To prevent the spread of germs, they thoroughly clean their hands with soap and water for 20-30 seconds before and after treating each patient, before putting on and right after taking off a pair of gloves, and before coming or going to the practice.
2.) Adequate Personal Protective Equipment (PPE)
Personal protective equipment is designed to protect the wearer's skin, nose, mouth, and eyes from any infected particles that could make them sick. Additionally, PPE also prevents the wearer from spreading germs themselves. To keep everyone safe during your treatment, your dental team will be wearing equipment like gloves, masks, face shields, and protective coats. After use, these items are either safely disposed of or diligently disinfected.
3.) Proper Cough Etiquette & Respiratory Health
The office has been rearranged to encourage both staff and patients alike to practice proper cough etiquette and respiratory health. Facial tissue, hand sanitizer, and no-touch trash receptacles will be easily seen and accessible in nearly every area. There may also be signs, posters, or pamphlets reminding readers to cover their nose and mouth when coughing or sneezing.
4.) CDC-Approved Instrument Sterilization
Anything that comes near your mouth needs to be thoroughly sanitized to prevent the spread of germs. Sometimes, this risk can be completely eliminated by using disposable tools like needles and suction tube tips. Reusable instruments are sterilized with specific procedures that have been outlined by the CDC. These methods could include high heat, steam under pressure, or chemical vapor to leave instruments like dental mirrors, scalers, and handpieces (drills) spotless.
5.) Regularly and Thoroughly Disinfecting the Environment
If infected respiratory droplets, aerosols, or splashes of body fluid are dispersed in a treatment room, they can survive on nearby surfaces for hours of days at a time. Any surfaces or equipment that could potentially be contaminated is cleaned frequently throughout the day and thoroughly every night. This includes objects like countertops, doorknobs, light switches, keyboards, examination lights, and sink handles. First, the surface is cleaned with soap and water to clear away any debris that could shelter smaller particles. Then, a hospital-grade disinfectant is applied to kill any lingering germs.
Dental practices have always followed rigorous cleaning and sanitation procedures to keep you healthy during your visit. If you need to see your dentist for care after weeks in quarantine, you can feel confident that they are taking every precaution to safeguard your wellbeing during the pandemic.
About the Author
To keep their patients, staff, and the entire community of Hackettstown, NJ healthy, Skylands Dental of New Jersey has always met and exceeded the sanitation standards set forth by the Centers for Disease Control and Prevention. Dr. Arindam Kakkar has been monitoring the COVID-19 pandemic closely and adjusting his infection control protocols accordingly. With careful consideration, he has added numerous extra precautions to the excellent dental safety procedures he has always used to keep his patients healthy. If you'd like to learn more, feel free to reach out via his website or at (908) 850-0005.