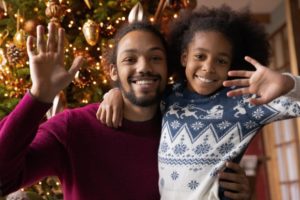 If you're not careful, holiday foods, sweet treats, and a change in your daily schedule during your days off of work can become bad news for your oral health. There's nothing worse than needing to visit your emergency dentist during your celebrations because of a visible cavity or dental damage. Read on to learn five tips to help keep your smile in tip-top shape over the holidays.
1. Don't Stray from Your Oral Hygiene Routine
If you've taken off a week of PTO from work or have a few days off to sit at home and enjoy spending time with your loved ones, it's important to still stick with your regular morning and nightly oral hygiene routine. To keep your gums and teeth healthy, it's important to brush for two-minutes, twice every day, floss once a day, and rinse with antimicrobial mouthwash each day.
2. Limit Snacking on Sweet Treats
Tempting sweets seem to be laying out everywhere during the holidays. Your stocking will be filled with your favorite candies or you might decide to whip up your Grandma's recipe for white chocolate macadamia nut cookies. While you don't have to completely avoid indulging in these festive sweets, it is important to avoid snacking on them throughout the day, because the constant oral exposure to sugar could increase your risk of developing cavities.
3. Stay Hydrated with Water Instead of Holiday Cocktails
Festive spiked egg nog and mulled wine may be delicious, but sipping on alcoholic beverages (especially those with sugar) can increase your risk of developing decay. Be sure to stay hydrated with water during your days off to make sure that food debris, sugar, and other harmful oral debris don't have an opportunity to accumulate and wreak havoc on your oral health.
4. Don't Use Your Teeth to Open Presents & Packages
It may be tempting to tear open one of your presents using your teeth, but it's important to remember that your pearly whites aren't indestructible. By getting a pair of scissors to open a package instead, you can avoid a trip to the emergency dentist in Hackettstown over the holidays!
5. Be Wary of Candy Canes
Candy canes are delicious, but they're also a hard candy that could break or chip a tooth if you crunch down on one. Instead, make sure that you suck on the candy cane while being mindful not to continuously expose your teeth to sugar throughout the day.
With these five tips under your belt, you can make sure that your oral health stays on the right track over the holidays and you don't need any unexpected visits to your emergency dentist.
About the Author
Dr. Arindam Kakkar has been providing high-quality, trustworthy dental care since he graduated from NYU College of Dentistry in 2006. He offers completely comprehensive dentistry for patients of all ages in Hackettstown. He also stays up-to-date with the latest techniques and advancements in his field by regularly taking continuing education courses. If you have an accident over the holidays or would like to schedule your routine checkup and cleaning to ensure the health of your smile, visit Skylands Dental of New Jersey's website or call 908-850-0005.