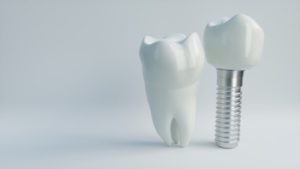 Dental implants are in a complete tier of their own when it comes to replacing missing teeth! These awesome little implants can effectively restore the look, feel, and functionality of your lost pearly whites and provide you with an unparalleled boost in confidence. That said, you might be curious about receiving dental implants for yourself, but you have questions about the price tag. Keep reading to learn about four of the key factors that determine the cost of dental implants.
#1: The Number of Implants Needed
Naturally, needing more teeth replaced means that you'll need more implants—and logically, this increases the cost of treatment. If you only need one or two teeth replaced, your bill won't run too high; but if you have multiple lost teeth or an entire row that needs to be replaced, you're looking at a much higher cost. In these instances, it's sometimes worth considering other alternatives like bridges or dentures.
#2: Any Additional Oral Surgeries
Sometimes your mouth isn't immediately ready to receive dental implants. You might have insufficient jawbone density, meaning that your jaw isn't able to fully support implants. In these cases, a dental bone graft is usually necessary in order to fortify the existing bone matter. In other cases, sometimes something like a tooth extraction is necessary before you can receive implants. Your individual circumstances will determine if any additional oral surgeries are necessary; however, additional tacked-on procedures will inevitably drive up the total cost of treatment.
#3: The Location of Teeth and Placement Procedure
Front teeth are typically more expensive to replace, as your dentist must ensure that the solution carefully matches the angle of your jawline and doesn't negatively influence your bite pattern. That said, sometimes your dentist must use varying placement methods depending on what teeth are being replaced and the complexity of the procedure. Static placement requires scans to be taken of your mouth to create guides for surgical placement, while dynamic placement uses computer software to guide the surgeon's hand during placement.
#4: The Patient's Overall Oral Health
In any case, your dentist will have to confirm that you're an eligible candidate for dental implants—and this will depend greatly on your overall oral health. If you have periodontal disease or any other serious oral health concerns, they'll need to be treated before you can move forward with the implant process. The total cost can also rise if there are any extra precautions that need to be taken before the implant procedure.
One of the biggest problems associated with missing teeth is that it often leads to additional missing teeth, meaning that replacing your lost pearly whites should be a priority. Fortunately, dental implants are one of the best ways to do this and knowing the factors that determine the cost of receiving them can help get your smile the treatment it deserves.
About the Author
Dr. Arindam Kakkar received his dental doctorate from the NYU College of Dentistry and has proudly served patients and families in the Hackettstown, NJ community for several years. His practice is pleased to offer several available services including dental implants. If you have any questions or concerns about dental implants or would like to schedule a visit, feel free to contact Dr. Kakkar through his practice's website or over the phone: (908) 850-0005.