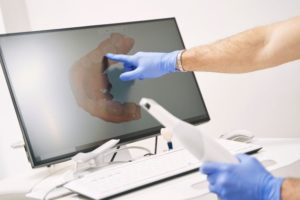 Invisalign is one of the most popular ways to straighten crooked teeth, and for good reason. It is effective and aesthetically pleasing. Plus, the removable nature of the aligners makes it exceedingly convenient. But there is even more to love about it. Thanks to the iTero scanner, the process of getting started with Invisalign can be comfortable, easy, and mess-free. How exactly can the iTero scanner improve your Invisalign experience? Read on below to find out.
iTero Imaging: The Basics
The iTero intraoral scanner is designed to capture precise digital impressions of a patient's teeth. All your dentist has to do is move a special wand around your oral cavity. The cameras on the wand are capable of capturing thousands of frames per second.
After the scan, the iTero's advanced software assembles the images into a highly detailed, three-dimensional representation of your teeth. This digital record of your smile can then be used as the basis for designing your Invisalign aligners.
Since the iTero program is an open software system, it is easy for your dental team to share your scans with the folks at the Invisalign lab who will be fabricating your aligners. This fast and efficient communication process can make the beginning phases of your treatment as smooth as possible.
How the iTero Scanner Improves Invisalign
The iTero scanner is not the only digital impression tool on the market. However, this unique instrument is one of the best products for taking Invisalign impressions. Here is a look at some of its most outstanding benefits:
Unlike other digital scanners, iTero does not require that your teeth be covered with a messy powder in order to produce an accurate impression.
iTero can shorten your total appointment time by up to 22% (compared to appointments where traditional, manual impressions are used).
Your dentist will have immediate access to the results of your scan. You will not have to wait while they determine whether the images are detailed enough to serve as the basis for designing your Invisalign aligners.
The iTero wand is relatively small, which contributes to a comfortable scanning process and minimal risk of gagging.
iTero scans are remarkably reliable and precise. One study even found that dental professionals who use the iTero have 10 times fewer rejections from Invisalign and seven times fewer problems with the way Invisalign aligners fit.
The iTero scanner is an advanced piece of technology that can help your Invisalign treatment get started in the best way!
Meet the Dentist
Dr. Arindam Kakkar is an accomplished dentist with more than 15 years of experience in his field. He loves to provide comfortable, efficient treatment for his patients, which is why he has invested in an iTero scanner. To learn more about Dr. Kakkar, Invisalign, or the technology in our office, contact Skylands Dental of New Jersey at 908-850-0005.