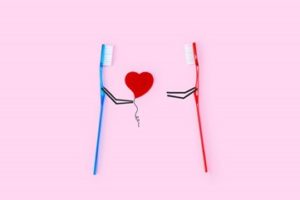 Shopping for the perfect gift can be stressful enough, especially when you can't decide on what to give. The goal is to make sure to pick something that your loved one will appreciate and be able to actually use. Why not give them gorgeous teeth? Below, you will find a list of 4 Valentine's Day dental gifts that are sure to brighten your favorite smile.
Electric Toothbrush
While electric toothbrushes are better at removing plaque and bacteria than manual brushes, they're also pretty fun to use! They usually come with a built-in 2-minute timer that helps the user brush for the right amount of time. Electric brushes are also great for all ages. If your loved one suffers from a condition like rheumatoid arthritis, it's a great gift idea.
Teeth Whitening
If your loved one deserves a bright smile to match their vibrant energy, a teeth whitening might be just the thing! Over-the-counter whitening kits might be easy to find, but they can't provide the results that a kit purchased from your dentist in Hackettstown can. The kits that your dentist can offer are not only more effective than store-bought kits, but they also give better coverage and longer-lasting results. There's no need to worry about teeth looking unnatural or fake-looking; a custom-designed kit will give the use the ideal shade that works best for them.
Water Flosser
As they grow in popularity, water flossers come in a wide range of colors. This handheld device expends steady pulses of water between teeth. This is ideal for someone who might suffer from arthritis or has dental devices like braces or dental bridges. It is also great for someone who is serious about reducing the amount of waste they produce, as it is an excellent alternative to disposable flossers or traditional dental floss.
Travel-Sized Dental Kit
If the one you love travels often for work, building them their very own travel-sized dental kit is a pretty thoughtful and useful idea. Choose a sleek leather toiletry bag or a vintage travel case and fill it with a sleek toothbrush, a bag or container of disposable flossers and some travel-sized toothpaste and mouthwash.
When you gift someone tools to help improve their smile, they won't be able to smile for a photo or look in the mirror without thinking of you. So, give someone you love a gorgeous smile this Valentine's Day.
About the Author
At Skylands Dental of New Jersey, Dr. Arindam Kakkar Is committed to providing every patient with top-quality, comprehensive dental care. He received his dental degree from the New York University College of Dentistry in 2006. Dr. Kakkar is proficient in and enjoys all aspects of general dentistry, full mouth restorations, cosmetic dentistry and more. If you've settled on giving the git of a professional teeth whitening kit, contact the office at (908) 850-0005 or visit the website to learn more.