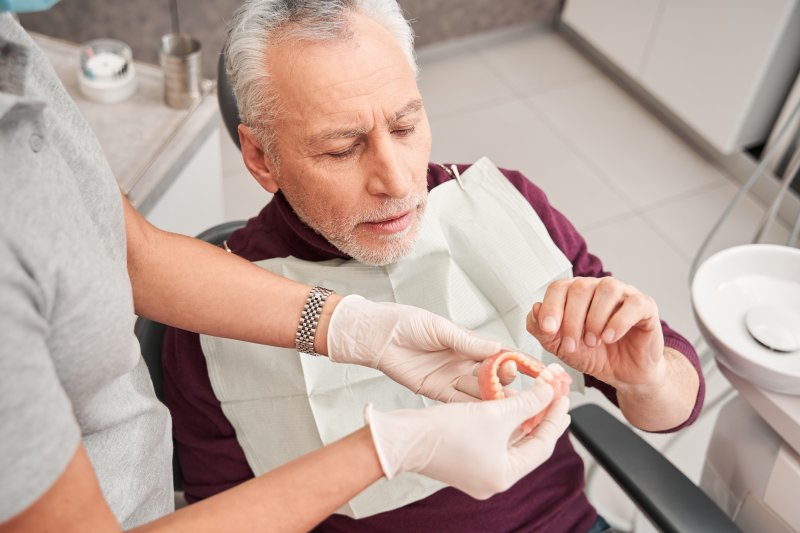 True enough, today's dentures are durable and practical. High-quality features ensure they work well as tooth replacements. However, even the best of these restorations need tuning every once in a while. Such an alteration is called a denture reline, which preserves your treatment's results. If you'd like, your Hackettstown dentist can even explain what to expect from one. To that end, here's a summary of denture relines, when you need them, and how they work.
What's a Denture Reline?
Even if it doesn't fracture or break, a denture can start to fit poorly over time. When that happens, one method for resolving the issue is relining.
Put simply, a reline is a way to add material to a denture's interior surface. It improves the appliance's fit and comfort when your gums shift and change. In most cases, the option can use varying materials for different needs or purposes. It's thus very convenient and comprehensive.
The Signs You Need a Denture Reline
When you need a denture reline, specific signs will show up. These include the following:
Your Dentures Are Loose – As you'd expect, loose dentures aren't effective and cause oral health issues. Therefore, see your dentist for a reline if you notice frequent loosening.
You Have Pressure Sores – Sometimes, changes in your mouth structure cause dentures to pinch your gums. The resulting pressure can then lead to pressure sores.
You're Struggling to Speak – If your dentures fit especially poorly, they'll make it hard for you to speak clearly. You might even slur your words or sound slushy.
How a Denture Reline Works
As it happens, there are two kinds of denture reline. Which one you get will affect how the relining process works.
Soft Denture Reline
For a soft reline, the dentist uses a special liquid to add depth to your denture. You'll then offer feedback on how the denture feels. Next, the dentist will make extra adjustments so the fit is secure.
The main perk of soft relines is that they're quick. In fact, they can be done in the dentist's office and don't require lab work. Still, soft relines require frequent follow-ups due to the substance used.
Hard Denture Reline
In contrast to a soft reline, a hard one uses more durable material. That means the latter lasts years longer than the former. Aside from that difference, though, how a hard reline adds material is the same as with the other kind.
Hard relines are done by dentists themselves or by a dental lab. Even so, most dental providers suggest using a lab due to the materials involved. Technicians can take extra steps so the hard material doesn't lead to sore spots.
As you can see, a denture reline is worth getting every few years. Therefore, talk to your dentist about whether you're due for one!
About the Practice
Skylands Dental of New Jersey is based in Hackettstown, NJ. Led by Dr. Arindam Kakkar, our practice wants each patient to get the dreamy smile they deserve. To that end, our team performs preventive, cosmetic, and restorative treatments, as well as emergency dental services. Naturally, our office offers the very best denture relines as well. For more information or to book a visit, you can reach us on our website or by phone at (908)-850-0005.